Born for Love: Why Empathy Is Essential--and Endangered (Paperback)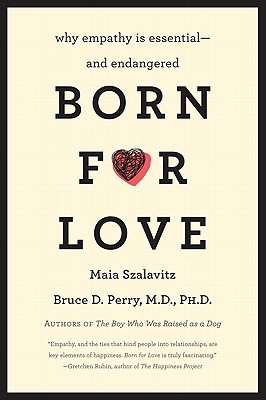 $16.99
Usually Ships in 1-5 Days
Description
---
"Bruce Perry is both a world-class creative scientist and a compassionate therapist."
—Mary Pipher, author of Reviving Ophelia
Born for Love is the definitive book on empathy. Renowned psychiatrist Bruce Perry has appeared on Oprah, CNN, National Public Radio's All Things Considered, and other programs as an expert in this hot area of neuroscience, and has been cited as such in Newsweek, the New York Times, and The New Yorker (in a story written by Malcolm Gladwell). He and co-writer Maia Szalavitz explore empathy's startling importance in human evolution and its significance for our children and our society. The authors of The Boy Who was Raised as a Dog present a powerful case that love is essential…and endangered.
About the Author
---
Bruce D. Perry, M.D., Ph.D., is the senior fellow of the ChildTrauma Academy (www.ChildTrauma.org), a not-for-profit organization based in Houston that is dedicated to improving the lives of high-risk children, and he is an adjunct professor of psychiatry at the Northwestern University School of Medicine in Chicago. He is the author, with Maia Szalavitz, of The Boy Who Was Raised as a Dog, a bestselling book based on his work with maltreated children.
Maia Szalavitz is the author of Help at Any Cost: How the Troubled-Teen Industry Cons Parents and Hurts Kids (Riverhead, 2006), which led to state investigations into the industry as well as federal legislation. She is a senior fellow at media watchdog STATS.org and has written for the New York Times, Elle, Time magazine online, and the Washington Post.
Praise For…
---
"Empathy, and the ties that bind people into relationships, are key elements of happiness. Born for Love is truly fascinating."
— Gretchen Rubin, #1 New York Times bestselling author of The Happiness Project

"Once in awhile a book changes the way I experience the world. This time it's Born For Love, by Bruce D. Perry and Maia Szalavitz. Their book explores how children learn to love-or not. No work of fiction is as compelling."
— Denver Post

"An accessible and important work of popular science."
— BigThink.com

"Strikingly original and thought-provoking, Born for Love explores the crucially important role empathy plays in all of our lives. It should be required reading for every parent, partner, and friend."
— Annie Murphy Paul, author of Origins: How the Nine Months Before Birth Shape the Rest of Our Lives