When Things Get Crazy with Your Teen: The Why, the How, and What to Do Now (Hardcover)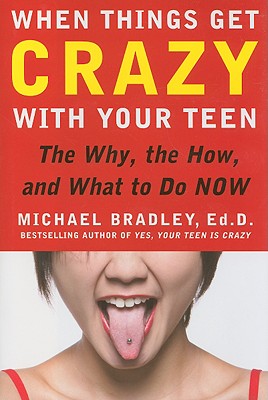 $32.00

Usually Ships in 1-5 Days
Description
---
No, it's not easy raising teenagers. Yes, there are sane solutions--in this problem-solving parent's guide from the bestselling author of Yes, Your Teen Is Crazy
How should you respond when your teen comes home late? Wears inappropriate clothes? Is pregnant, or flunking out? You'll find the answers here--right at your fingertips--in this quick-reference manual from one of the leading experts on adolescent behavior. As someone who has counseled hundreds of teens in his practice and as a father of two teens himself, Dr. Michael Bradley understands how teenagers can drive you crazy. Offering practical "first response" advice, he tells you exactly what to do and what NOT to do in about every scenario you'll ever face with your kid, from messy rooms and monstrous moods to drug abuse and depression.
If you own a teen (or feel owned by one) the experts agree you need this book
". . . a wonderful, straightforward, and extremely helpful book. Michael Bradley's advice is always compassionate, very much on the mark, and, above all, realistic."
--Anthony E. Wolf, Ph.D., bestselling author of Get Out of My Life, but First Could You Drive Me and Cheryl to the Mall
"Raising teens can be quite a bumpy ride. When Things Get Crazy with Your Teen supplies an easy-to-read, practical, and valuable road map for the trip."
--David Walsh, Ph.D., author of Why Do They Act That Way?
"Exceptional. . . . This is a book that I will highly recommend, not just to parents of my adolescent patients but for all parents attempting to raise teenagers in today's complex and stress-filled world."
--Sam Goldstein, Ph.D., coauthor of Raising Resilient Children
"Parents will find fresh insights and concrete, no-nonsense help throughout . . .." --Adele Faber and Elaine Mazlish, authors of How to Talk So Teens Will Listen & Listen So Teens Will Talk
About the Author
---
Michael Bradley, Ed.D., is a psychologist and award-winning author specializing in adolescent behavior and is certified by the American College of Professional Psychology in the treatment of substance abuse disorders. He has appeared frequently on "Today," "Good Morning America," CNN, and National Public Radio, and he has authored several books including the bestselling Yes, Your Teen is Crazy: Loving Your Kid Without Losing Your Mind. He resides near Philadelphia where he worries incessantly that his own two children might grow up to be people like him.