The Deptford Trilogy: Fifth Business; The Manticore; World of Wonders (Paperback)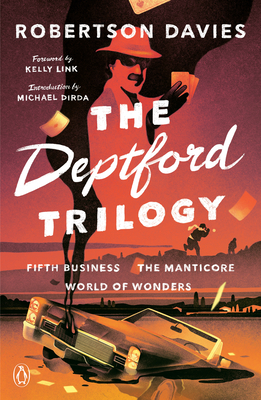 $30.00
Email or call for price
Description
---
The complete volume of Robertson Davies's acclaimed trilogy, featuring Fifth Business, The Manticore, and World of Wonders, with a new foreword by Kelly Link 

Fifth Business
Ramsay is a man twice born, a man who has returned from the hell of the battle-grave at Passchendaele in World War I decorated with the Victoria Cross and destined to be caught in a no man's land where memory, history, and myth collide. As Ramsay tells his story, it begins to seem that from boyhood, he has exerted a perhaps mystical, perhaps pernicious, influence on those around him. His apparently innocent involvement in such innocuous events as the throwing of a snowball or the teaching of card tricks to a small boy in the end prove neither innocent nor innocuous. Fifth Business stands alone as a remarkable story told by a rational man who discovers that the marvelous is only another aspect of the real.
The Manticore
Around a mysterious death is woven a glittering, fantastical, cunningly contrived trilogy of novels. Luring the reader down labyrinthine tunnels of myth, history and magic, THE DEPTFORD TRILOGY provides an exhilarating antidote to a world from where 'the fear and dread and splendour of wonder have been banished'.
World of Wonders
This is the third novel in Davies's major work, The Deptford Trilogy. This novel tells the life story of the unfortunate boy introduced in The Fifth Business, who was spirited away from his Canadian home by one of the members of a traveling side show, the Wanless World of Wonders.
About the Author
---
Robertson Davies
(1913–1995) was born and raised in Ontario, and was educated at a variety of schools, including Upper Canada College, Queen's University, and Balliol College, Oxford. He had three successive careers: as an actor with the Old Vic Company in England; as publisher of the Peterborough Examiner; and as university professor and first Master of Massey College at the University of Toronto, from which he retired in 1981 with the title of Master Emeritus.
He was one of Canada's most distinguished men of letters, with several volumes of plays and collections of essays, speeches, and belles lettres to his credit. As a novelist, he gained worldwide fame for his three trilogies: The Salterton Trilogy, The Deptford Trilogy, and The Cornish Trilogy, and for later novels Murther & Walking Spirits and The Cunning Man.
His career was marked by many honours: He was the first Canadian to be made an Honorary Member of the American Academy of Arts and Letters, he was a Companion of the Order of Canada, and he received honorary degrees from twenty-six American, Canadian, and British universities.
Praise For…
---
"If you are the kind of reader who looks for traces of the marvelous and the unexpected in narrative as well as daily life, then soon you will, like me, treasure these novels."
—Kelly Link
 
"The Deptford Trilogy boldly commingles the extraordinary and the everyday, at times attaining what Davies once called, in talking about melodrama, 'the compelling immediacy of a dream.'"
—Michael Dirda