Carl Sandburg: Adventures of a Poet (Hardcover)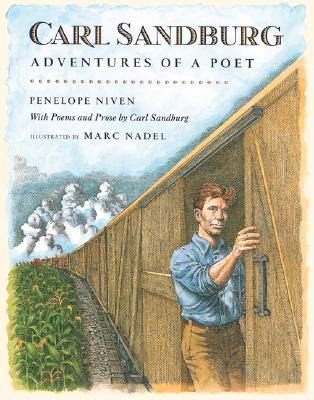 Description
---
Hobo. Soldier. Reporter. Musician. Husband and father. Storyteller. Historian.
Carl Sandburg was all of these things. But he distinguished himself above all as the Poet of the People, a traveler and dreamer who carried poems, stories, and songs in his heart--and shared them with the many people he met in his travels. Seamlessly joining scenes from Sandburg's life, highlights from his poems and prose, and historically detailed illustrations, this thorough and thoughtful portrait turns biography into its own adventure.
A time line and notes about the illustrations supplement the text.

About the Author
---
PENELOPE NIVEN (1939-2014) devoted fourteen years to organizing Carl Sandburg's papers, forming the framework for her 1991 biography of the poet. A fellow of American Literature from the National Endowment for the Humanities, Niven founded and directed the Carl Sandburg Oral History Project for the National Park Service and the University of Illinois Library.
CARL SANDBURG (1878–1967) was twice awarded the Pulitzer Prize, first in 1940 for his biography of Abraham Lincoln and again in 1951 for Complete Poems. Before becoming known as a poet, he worked as a milkman, an ice harvester, a dishwasher, a salesman, a fireman, and a journalist. Among his classics are the Rootabaga Stories, which he wrote for his young daughters at the beginning of his long and distinguished literary career.


MARC NADEL (1950- ) has contributed illustrations to books as diverse as The Sesame Street Bedtime Storybook and The Art of Alfred Hitchcock. His illustrations for the Highlights for Children 24-book continuity Top Secret Adventures earned him the Distinguished Achievement Award for excellence in educational journalism from the Educational Press Association of America. He has also received the ONE Award from the Art Directors' Guild for editorial Cartooning.