Forty Studies That Changed Psychology (Paperback)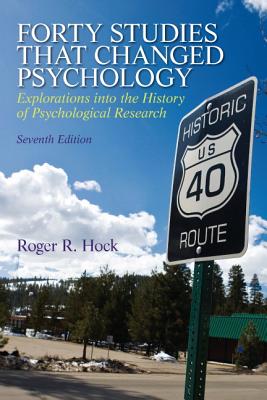 Description
---
Forty studies that help shape Psychology
Roger Hock's Forty Studies provides a glimpse of the science of psychology, unraveling the complexities of human nature. This book provides a more in-depth look and analyses that cannot be found by reading a textbook or research alone. It has the original studies, research & analysis about the most famous studies in psychological history.
Learning Goals
Upon completing this book, readers will:
Gain background knowledge of the complexities in the psychology field.
Learn about detailed studies in an easy, understandable manner.
Understand scientific research, through closer examination of major topics.
About the Author
---
Roger R. Hock received his Ph.D. from the University of California at San Diego and is currently the Director of the Psychology Program at Mendocino College in northern California. He is the author of several well-known books including two textbooks, Human Sexuality and 40 Studies that Changed Psychology: Explorations into the History of Psychological Research. He is coauthor (with Meg Kennedy Dugan) of, It's My Life Now: Starting over after an Abusive Relationship or Domestic Violence. He brings over 20 years of teaching experience to the project.