The Pocket Stoic (Hardcover)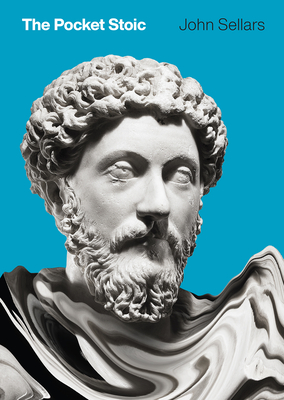 $12.00

Usually Ships in 1-5 Days
Description
---
To counter the daily anxieties, stress, and emotional swings caused by the barrage of stimuli that plagues modern life, many people have been finding unexpected solace in a philosophy from a very different and distant time: Stoicism. Today, more than 100,000 people are members of online communities for modern Stoics, and there are annual conferences, meet-ups, and workshops for those aspiring to walk the Stoic path. But what is Stoicism, and what makes it resonate so powerfully today?
 
As John Sellars shows in The Pocket Stoic, the popular image of the isolated and unfeeling Stoic hardly does justice to the rich vein of thought that we find in the work of Seneca, Epictetus, and Marcus Aurelius, the three great Roman Stoics. Their works are recognized classics, and for good reason—they speak to some of the perennial issues that face anyone trying to navigate their way through life. These writings, fundamentally, are about how to live—how to understand your place in the world, how to cope when things don't go well, how to manage your emotions, how to behave toward others, and finally, how to live a good life. To be a Stoic is to recognize that much of the suffering in your life is due to the way you think about things, and that you have the ability to train your mind to look at the world in a new way—to recognize what you can and cannot control and to turn adversity into opportunity.
 
Concise and accessible, The Pocket Stoic provides a welcome introduction to the lives and thought of the key Stoics. It is also a perfect guide to help you start incorporating the practice of Stoicism into your everyday approach to life.
About the Author
---
John Sellars is a reader in philosophy at Royal Holloway, University of London, a visiting research fellow at King's College London, and a member of Wolfson College, Oxford. He is the author of The Art of Living: The Stoics on the Nature and Function of Philosophy, Stoicism, Hellenistic Philosophy, Marcus Aurelius and The Pocket Stoic, the last also published by the University of Chicago Press.
 
Praise For…
---
"Sellars's book is an excellent starting point for anyone interested in experimenting with this approach to life."
— Five Books

"Expertly and vividly Sellars presents lessons in Stoicism that are strikingly relevant to modern life. From the great Roman Stoic authors, he distills teaching on managing emotions, dealing with adversity, facing death, and making the best use of every hour and situation. This is a book that excellently shows why Stoicism is the philosophy for our time. I recommend it with enthusiasm."
 
— A. A. Long, author of Epictetus: How to be Free

"Sellars gives an enlightening explanation of how Stoic philosophy can help us in our lives. It can put us in control of our feelings, help us in adversity, and guide us in our relationships with others. Sellars is ideally placed to offer these lessons in Stoicism as a teacher, scholar, and founding member of the group that teaches living like a Stoic for a week."
 
— Richard Sorabji, author of Moral Conscience through the Ages: Fifth Century BC to the Present

"Excellent. . . . Sellars gives a lucid, easy-to-follow account of what Stoicism as a way of life amounts to and how you might start to put it into practice. . . . To cover so much ground without merely skimming the surface requires real skill as a writer." 
— Nigel Warburton, author of A Little History of Philosophy

"In The Pocket Stoic, Sellars offers a brief (pocket-sized, in fact) introduction to Stoicism by summarizing the major teachings of the three main figures: Epictetus, Marcus Aurelius, and Seneca. The book is an introduction for those who have no prior knowledge of the philosophy, and it provides a list of suggested readings, both modern works and English translations of the ancient source documents. . . . The picture of Stoic philosophy that comes through The Pocket Stoic is of a worldview meant to help practitioners come to grips with impermanence, mortality, emotions and desires, and the fact of limited control over circumstances."
— Chicago Maroon

"Sellars has done readers a favor with these two slim volumes [The Pocket Stoic and The Pocket Epicurean]. They do an admirable job of summarizing the tenets of these philosophical schools and feature valuable coverage of the heavy-hitters of . . .  Stoicism (Marcus Aurelius, Seneca, Epictetus). Sellars' style is engaging and he often poses questions for the reader (such as "What aspects of your life do you really control?" or "Few people today worry about the vengeful thunderbolt of Zeus, so what lesson can we abstract from this?") which are addressed by the various authors and schools."
— Bryn Mawr Classical Review