Science in Print: Essays on the History of Science and the Culture of Print (Print Culture History in Modern America) (Paperback)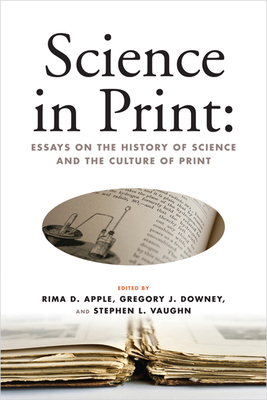 Description
---
Ever since the threads of seventeenth-century natural philosophy began to coalesce into an understanding of the natural world, printed artifacts such as laboratory notebooks, research journals, college textbooks, and popular paperbacks have been instrumental to the development of what we think of today as "science." But just as the history of science involves more than recording discoveries, so too does the study of print culture extend beyond the mere cataloguing of books. In both disciplines, researchers attempt to comprehend how social structures of power, reputation, and meaning permeate both the written record and the intellectual scaffolding through which scientific debate takes place.
    Science in Print brings together scholars from the fields of print culture, environmental history, science and technology studies, medical history, and library and information studies. This ambitious volume paints a rich picture of those tools and techniques of printing, publishing, and reading that shaped the ideas and practices that grew into modern science, from the days of the Royal Society of London in the late 1600s to the beginning of the modern U.S. environmental movement in the early 1960s.
About the Author
---
Rima D. Apple is professor emerita of interdisciplinary studies in human ecology at the University of Wisconsin–Madison. She is author of Mothers and Medicine: A Social History of Infant Feeding, 1890–1950. Gregory J. Downey is professor in the School of Journalism and Mass Communication and the School of Library and Information Studies at University of Wisconsin–Madison. He is author of Closed Captioning: Subtitling, Stenography, and the Digital Convergence of Text with Television. Stephen L. Vaughn is professor in the School of Journalism and Mass Communication at UW–Madison and editor of the Encyclopedia of American Journalism.
Praise For…
---
"An invigorating display of the assets that a consideration of print culture can bring. Provides vivid, realistic, and provocative readings of scientific concepts and actors that are otherwise difficult to come by."—Katherine Pandora, University of Oklahoma
"A valuable and useful contribution to a significantly underexplored field."—Jonathan Topham, co-editor of Culture and Science in the Nineteenth-Century Media