Teach Your Own: The Indispensable Guide to Living and Learning with Children at Home (Paperback)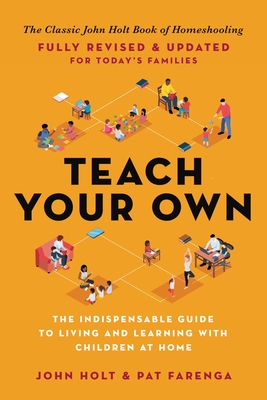 $18.99

Usually Ships in 1-5 Days
Description
---
The classic guide to teaching children at home for a new generation of homeschooling parents
 In 2019, there were more than two million children being homeschooled. That number doubled during the pandemic and is now likely to continue increasing as more parents worry that school might not be the best place for their children to learn and grow. 
Teach Your Own
helped launch the homeschooling movement; now, its timeless and revolutionary message of recognizing the ways children come to understand the world has been updated for today's environment. Parents and caregivers will discover how to navigate:
Learning in a classroom versus learning in the world
The difference between a learning difficulty (which we all experience every time we try to learn anything) and a learning disability.
Schedules that achieve the homeschooling-work-life balance that you want as a family
The relationship between learning and play
Homeschooling and technology
And much more.
 John Holt's warm understanding of children and his passionate belief in every child's ability to learn have made this book an essential resource for over forty years to homeschooling families.
About the Author
---
John Holt (1923-1985), one of this country's leading educational and social critics, was the author of ten influential books which have been translated into fourteen languages. Known both as a passionate reformer and as "the gentle voice of reason" (Life magazine), John Holt offered insights into the nature of learning that are more relevant today than ever before. Pat Farenga, writer and president of Holt Associates, brings more than 34 years of fieldwork, advocacy, and personal experience to help children and parents learn in their own ways. He lectures all over the country and is the father of three home-schooled daughters.