Coyote V. Acme (Paperback)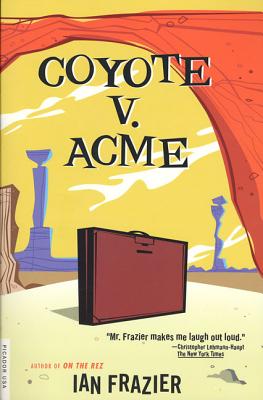 $17.00

Usually Ships in 1-5 Days
Description
---
Twenty-two side-splitting glimpses into some oddball corners of the American mind from bestselling author Ian Frazier.

The title essay of Coyote v. Acme, Frazier's second collection of humorous essays, imagines the opening statement of an attorney representing cartoon character Wile E. Coyote in a product liability suit against the Acme Company, supplier of unpredictable rocket sleds and faulty spring-powered shoes. Other essays are about Bob Hope's golfing career, a commencement address given by a Satanist college president, a suburban short story attacked by the Germans, the problem of issues versus non-issues, and the theories of revolutionary stand-up comedy from Comrade Stalin.

From first to last, this is Frazier at his hilarious best.
About the Author
---
Ian Frazier is the author of Travels in Siberia, Great Plains, On the Rez, Lamentations of the Father and Coyote V. Acme, among other works, all published by Farrar, Straus and Giroux. He graduated from Harvard University. A frequent contributor to The New Yorker, he lives in Montclair, New Jersey.
Praise For…
---
"Mr. Frazier makes me laugh out loud." —Christopher Lehmann-Haupt, The New York Times

"Can you imagine Wile E. Coyote suing the Acme Co. for all those faulty explosives devices that failed to work in the Road Runner cartoons? What if Boswell did a life of Don Johnson, rather than Samuel Johnson? The writer also pokes fun at Bob Hope's flawed memory about accidents and golfing gems, Stalin's theory of comedy and a bank with a great, new system of notation." —Bob Trimble, The Dallas Morning News

"Makes Henry Kissinger look like a straight man." —David Mamet

"A few years ago, when the title piece from this collection appeared in The New Yorker, it lit up fax machines all over town . . . Now this masterpiece of the humorous essay spearheads a collection of similar gems." —Time Out New York

"To write ineffable lyrics, page-turning thrillers or profound epics--none of this is easy. But to write something that is truly funny--so funny that your eyes water and you laugh out loud--this may be the hardest and rarest thing of all. Ian Frazier does it with apparent ease." —The Kansas City Star

"Coyote v. Acme should make it clear that Frazier hasn't lost his gift for amusement. If you're in the right mood, it's possible even to scan the contents page without cracking up." —James Marcus, Newsday

"In Coyote v. Acme, a collection of (very) funny pieces, Ian Frazier separates issues ('Young Elvis, Old Elvis') from nonissues ('Old Elvis, Dead Elvis'); contemplates a life-insurance questionnaire for daytime drama characters; and has fun with critics' favorite crutch: positing cities (or mortality, or the English language) as a novel's character." —New York magazine