Shining a Light: Celebrating 40 Asian Americans and Pacific Islanders Who Changed the World (Hardcover)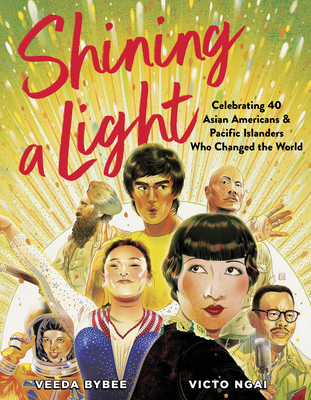 $17.99

Usually Ships in 1-5 Days
Description
---
A collective biography of 40 influential Asian Americans and Pacific Islanders, from Kalpana Chawla to The Rock to Tammy Duckworth, whose historical contributions readers may not know but whose light shines on, with stunning illustrated portraits by Hugo Award nominee Victo Ngai.
Meet forty people who helped change the world in countless ways in this beautifully illustrated collective biography.
From scientists to sports stars, aerospace engineers to artists, every person shines in this collection. Dynamic portraits portray each person with bold colors and clever, precise details. Each biography celebrates the determination and courage of people who were on the forefront of changing society.
Using their specific talents, each individual fought for the space for people of Asian and Pacific Islander descent to be seen and treated with dignity and respect. Their important legacy lives on today.
About the Author
---
Veeda Bybee is a former journalist who holds an MFA from the Vermont College of Fine Arts. She is a contributor to the YA anthology Rural Voices and MG anthology Calling the Moon. She has also written historical fiction chapter books Lily and the Great Quake and in partnership with the Smithsonian, Li On Angel Island. Veeda is the daughter of Asian immigrants and lives in Nevada with her family. 
Victo Ngai is a Los Angeles-based illustrator from Hong Kong who graduated from Rhode Island School of Design. A Forbes 30 Under honoree and Society of Illustrators New York gold medalist, Victo makes books for publishers such as Penguin Random House, Simon & Schuster, Folio Society, and Macmillan. Besides drawing, her biggest passions are traveling and eating. She hopes that one day she will save up enough to travel around the world and sample all kinds of food.
Praise For…
---
"Inspiring, uplifting, and absolutely beautiful. With its stunning illustrations and just-the-right-amount of text, SHINING A LIGHT is the nonfiction book I wish that I had as a young person. So happy that today's readers have this treasure." — Christina Soontornvat, two-time Newbery Honoree
"Growing up, Asian American and Pacific Islander history was rarely—if ever—taught at my schools. We were absent and often erased from our own country's history. SHINING A LIGHT is a beacon of information and inspiration about the incredible contributions of past and present AAPI innovators whose achievements have empowered all of us." — Paula Yoo, award-winning author of Shining Star: The Anna May Wong Story and From a Whisper to a Rallying Cry: The Killing of Vincent Chin and the Trial that Galvanized the Asian American Movement
"Stunning portraits introduce the succinct one-page biographies of the 40 individuals covered here, each boldly facing readers and surrounded by brightly hued landscapes and images symbolic of their accomplishments. The writing is solid and informative, and the collection is especially balanced and inclusive when it comes to representing the diversity of the Asian American and Pacific Islander experience, showing how they have long been integral to the building and progression of both America and the world. Bold, striking, and compelling." — Kirkus Reviews (starred review)
Accompanied by extra-ordinary portraiture from Ngai, which strikingly situates the figures amid imagistic details, each one-page biographical entry is packed with personal tidbits that reveal the figures' motivating forces. Arranged in chronological order, the entries begin with education reformer Yung Wing and end with Olympian Sunisa "Suni" Lee. Words and illustrations movingly dovetail in this essential compendium that aims, per an introduction, to show young readers "that they too can stand up and shape the world around them." — Publishers Weekly (starred review)