An American Family: A Memoir of Hope and Sacrifice (Hardcover)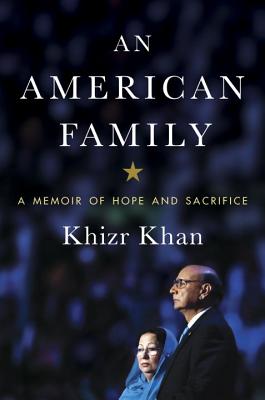 $27.00
Email or call for price
Staff Reviews
---
Dear Reader, In connection with the Scarsdale League of Women Voters' virtual event with author-activist Khizr Khan on January 30, we are pleased to offer copies of "An American Family" at a 10 percent discount. Sign up for the event at this link: http://us02web.zoom.us/webinar/register/WN_8To26pVsQYGcDdBg5A2zEg  The discount is automatically applied to online orders. For in-store purchases, just mention the LWV to receive the discount.
— Jessica and Mark
Description
---
This inspiring memoir by the Muslim American Gold Star father and captivating DNC speaker is the story of one family's pursuit of the American dream.

NAMED ONE OF THE FIVE BEST MEMOIRS OF THE YEAR BY THE WASHINGTON POST
 
"Moving . . . a story about family and faith, told with a poet's sensibility . . . Khizr Khan's book can teach all of us what real American patriotism looks like." —The New York Times Book Review

In fewer than three hundred words, Khizr Khan electrified viewers around the world when he took the stage at the 2016 Democratic National Convention. And when he offered to lend Donald Trump his own much-read and dog-eared pocket Constitution, his gesture perfectly encapsulated the feelings of millions. But who was that man, standing beside his wife, extolling the promises and virtues of the U.S. Constitution?

In this urgent and timeless immigrant story, we learn that Khizr Khan has been many things. He was the oldest of ten children born to farmers in Pakistan, and a curious and thoughtful boy who listened rapt as his grandfather recited Rumi beneath the moonlight. He was a university student who read the Declaration of Independence and was awestruck by what might be possible in life. He was a hopeful suitor, awkwardly but earnestly trying to win the heart of a woman far out of his league. He was a brilliant and diligent young family man who worked two jobs to save enough money to put himself through Harvard Law School. He was a loving father who, having instilled in his children the ideals that brought him and his wife to America—the sense of shared dignity and mutual responsibility—tragically lost his son, an Army captain killed while protecting his base camp in Iraq. He was and is a patriot, and a fierce advocate for the rights, dignities, and values enshrined in the American system.

An American Family shows us who Khizr Khan and millions of other American immigrants are, and why—especially in these tumultuous times—we must not be afraid to step forward for what we believe in when it matters most.

Praise for An American Family

"An American Family is a small but lovely immigrant's journey, full of carefully observed details from the order in which Ghazala served tea at a university event, to the schedule of the police patrols in the Boston Public Garden where Khan briefly slept while he was in between apartments, to the description of Humayun's headstone as a 'slab of white marble with soft streaks the color of wood smoke.'"—Alyssa Rosenberg, The Washington Post
About the Author
---
Khizr Khan, the eldest of ten children, was born in rural Pakistan in 1950. He moved to the United States with his wife, Ghazala, in 1980. The couple became American citizens and raised their three sons in Silver Spring, Maryland. Their middle son, U.S. Army captain Humayun Khan, a graduate of the University of Virginia and its Army ROTC program, was killed in 2004 while stopping a suicide attack near Baqubah, Iraq, and was posthumously awarded a Purple Heart and Bronze Star. Khizr Khan holds a B.A. degree from the University of the Punjab, an LL.B. from Punjab University Law College, and an LL.M. from Harvard Law School. He is a member of the Bar of the Supreme Court of the United States, the District of Columbia Bar, the New York State Bar, and the American Bar Association. Khan's law practice includes complex civil litigation, electronic discovery, health privacy compliance law, and civil rights and veterans' rights advocacy. He and Ghazala live in Charlottesville, Virginia.
Praise For…
---
"An American Family is a small but lovely immigrant's journey, full of carefully observed details from the order in which Ghazala served tea at a university event, to the schedule of the police patrols in the Boston Public Garden where Khan briefly slept while he was in between apartments, to the description of Humayun's headstone as a 'slab of white marble with soft streaks the color of wood smoke.'. . . Most importantly, the book is an effective argument for the depth of Khan's love for and knowledge of the Declaration of Independence, the Constitution and the amendments to it. He emerges as such an eloquent advocate for both documents, and for American values, that I finished An American Family with my own sense of patriotism and sense of civic obligation revitalized."—Alyssa Rosenberg, The Washington Post

"[A] moving memoir . . . a story about family and faith, told with a poet's sensibility . . . The book is a wonderful refutation of Trump's nativism and bigotry, but it is no partisan polemic. . . . Khizr Khan's book can teach all of us what real American patriotism looks like."—The New York Times Book Review

"[A] wide-eyed and eloquent memoir . . . A sense of wonder about America's promise peppers the entire narrative, even as [Khan] recounts his early struggles in the country while supporting his wife and three boys. . . . The account is especially resonant now."—Booklist

"Sometimes it takes a newcomer to point out the beauty that old-timers take for granted. America, more than any other country, was founded upon ideals: individual freedoms, equal protection and due process of law. Khan reminds us that these ideals are worth fighting—and even dying—for. The Khans truly are the most American of families."—BookPage

"An American Family holds its own alongside other fine memoirs of immigration and would be an inspired addition to any college or high school syllabus. The Gold Star father who spoke so movingly at the 2016 Democratic National Convention is just as affecting on the page."—Shelf Awareness (starred review)

"Self-effacing, the author writes movingly . . . Khan's aspirational memoir reminds us all why Americans should welcome newcomers from all lands."—Kirkus Reviews
Coverage from NPR