Skinny Liver: A Proven Program to Prevent and Reverse the New Silent Epidemic--Fatty Liver Disease (Paperback)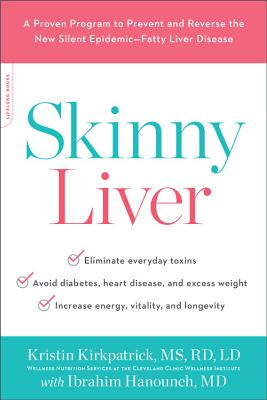 Description
---
Based on the latest research, Skinny Liver is an authoritative, easy-to-follow guide not just for your liver, but for your whole body.

The liver is the seat of our overall health and wellness and the health of nearly every organ is intimately connected with our liver. A healthy liver is essential to a fully functioning body, but our modern sedentary lifestyle and unhealthy eating habits can truly damage the liver -- and damage our health overall.

A silent health crisis is impacting one-third of the American population -- nonalcoholic fatty liver disease (NAFLD). Because its symptoms often don't manifest until the liver is seriously compromised, many people are not aware that they are at risk. Did you know that if you have fatty liver disease, you are more likely to develop cardiovascular disease (heart attack and stroke), and potentially several devastating conditions such as liver cirrhosis and liver cancer? Did you know that fat is as dangerous as alcohol to the liver?

Award-winning dietitian Kristin Kirkpatrick and hepatologist Dr. Ibrahim Hanouneh have teamed up for a life-changing program that will help you achieve optimal health. Skinny Liver's four-week program shares the steps you can take to get your liver health back on track, with everything from exercise to healthy eating and other lifestyle changes--along with delicious liver-friendly recipes.
About the Author
---
Kristin Kirkpatrick, MS, RD, LD, is the manager of Wellness Nutrition Services at the Cleveland Clinic Wellness Institute in Cleveland, Ohio, where she oversees nutrition-related services at the Center for Lifestyle Medicine. She is an award-winning dietitian and a regular guest on local and national television shows, including The Dr. Oz Show, NBC Nightly News, and the Today Show, as well as NPR Radio.

Ibrahim Hanouneh, MD, completed his residency in internal medicine and a fellowship in gastroenterology and hepatology at the Cleveland Clinic. After completing his training, Dr. Hanouneh joined the Gastroenterology and Hepatology staffs at the Digestive Disease Institute at the Cleveland Clinic and has served as an assistant professor at the Lerner College of Medicine, Case Western Reserve University in Cleveland, Ohio. Dr. Hanouneh currently provides care at Minnesota Gastroenterology, a Twin Cities-based gastroenterology practice.
Praise For…
---
"
Skinny Liver
sounds a powerful wakeup call that clearly connects dietary and other lifestyle choices to potentially life-threatening liver disease. More importantly, Kirkpatrick deftly empowers the reader with a scientifically validated, comprehensive, user-friendly plan to prevent and even reverse what has become a major health epidemic."—
David Perlmutter, MD, author of the #1 New York Times bestseller, Grain Brain, and The Grain Brain Whole Life Plan
"Fatty liver disease is a silent epidemic that is affecting 30 percent of all Americans. Grounded in cutting-edge research, Kristin Kirkpatrick's accessible, practical program will help you prevent liver disease and safeguard your overall health."
—
Mark Hyman, MD, Director, Cleveland Clinic Center for Functional Medicine, author of the #1 New York Times bestseller Eat Fat, Get Thin
"In today's toxic world, we are bombarded with chemicals in our environment, food supply, water, and personal care products, and our liver takes the brunt of the stress. If your liver becomes overwhelmed, it can lead to fatigue, weight gain, liver disease, autoimmune disease, and even cancer. In
Skinny Liver
, Kristin Kirkpatrick teaches you the secrets on the ideal diet, supplements, and lifestyle to cleanse your liver and take your health to the next level."—
Dr. Josh Axe, author of Eat Dirt, founder of DrAxe.com
"The authors do a thorough job, presenting not only liver-friendly diet choices but also helpful tips including 'smart kitchen makeover strategies' and 'liver health superstars' such as phytonutrients and probiotics."
—
Energy Times
"An informative resource for anyone suffering from fatty liver disease or just looking to avoid it."
—
Edible East Bay