Stress Fractures (Paperback)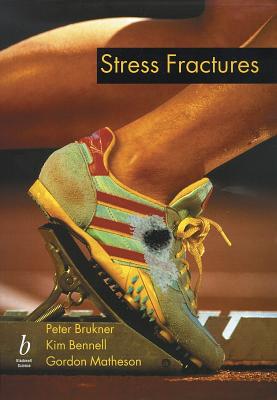 Description
---
This much-needed reference serves as your best source for up-to-date, organized information on stress fractures. Written by three leading authorities in this area, Stress Fractures covers the pathophysiology, epidemiology, risk factors, and treatment associated with these injuries.
The reference provides both theory about development of stress fractures and practical management of the various types and sites of stress fractures. It is an essential reference for all clinicians involved in the diagnosis, prescription, and management of these injuries.
Authors Peter Brukner, Kim Bennell, and Gordon Matheson draw together their extensive knowledge base and expertise to provide current and comprehensive information about the subject.
The pathophysiology and epidemiology of stress fractures are covered in the first two chapters. A general overview of diagnosis and treatment of stress fractures is provided in the following two chapters. In the concluding chapters, the management of specific stress fractures is described in detail for the upper limb, the trunk, the pelvis and thigh, the lower leg, and the foot and ankle.
Recent advances in nuclear isotope scans, CT scans, and MRI have enabled stress fractures to be detected and identified much more easily. Stress Fractures pulls together the important information on the topic and offers a valuable, practical guide to risk factors and treatment options for this increasingly prevalent type of injury.
This book is published by Blackwell Science and is not available from Human Kinetics in Australia.

About the Author
---
Peter Brukner, MBBS, DRCOG, FACSM, FACSP, is a sports physician and clinic director at Olympic Park Sports Medicine Centre in Melbourne, Australia. He is an inaugural Fellow of the Australian College of Sports Physicians and an Honorary Fellow of both the American College of Sports Medicine and the Australian Sports Medicine Federation. He has served two terms as president of the Australian College of Sports Physicians, as well as a term as the college's chief examiner.Dr. Brukner has extensive experience as a team physician for the Olympic games, the Commonwealth Games, and world championships in a number of sports, and has been involved with professional Melbourne soccer teams. He is a former editor of Sport Health and is senior associate editor of the Clinical Journal of Sport Medicine. He has coauthored two books: Food for Sport (with Karen Inge) and Clinical Sports Medicine (with Karim Khan), as well as a number of chapters and original articles. He has presented papers at conferences held in New Zealand, the Phillipines, Japan, Germany, Greece, the Netherlands, South Africa, the United Kingdom, and the United States.Kim Benell, BAppSc, PhD, is a senior lecturer in musculoskeletal physiotherapy at the School of Physiotherapy, the University of Melbourne, Australia, and is principal physiotherapist at Melbourne Fitness Club Physiotherapy. She is a committee member for both the Sports Physiotherapy Group and Sports Medicine Australia's Medicine and Science for Women in Sport Committee.In 1996, Kim completed a PhD for which she investigated the effects of exercise on the skeletal system; she focused especially upon stress fractures in athletes. She has received a number of research grants, including one from the National Health and Medical Research Council in order to investigate the effects of exercise on the skeleton during growth.In 1994, Kim won the annual Young Investigator Award at Sports Medicine Australia's International Conference in Science and Medicine in Sport for her research into stress fractures. She has also won LaTrobe University's Graduate Research Prize for her research in the sports medicine area. Kim has been widely published in peer-reviewed scientific journals and has been invited to speak about exercise and bone health at several national and international conferences.Gordon Matheson, MD, PhD, is associate professor and chief of the Division of Sports Medicine in the Department of Functional Restoration at the School of Medicine at Stanford University, California. He is also director of the Sports Medicine Program for Stanford's Department of Athletics. He is heading Stanford's new academic sports medicine initiative by developing clinical research and teaching components and by working towards establishing an institute. Gordon is editor-in-chief of the Physician and Sportsmedicine journal, is a past president of the Canadian Academy of Sports Medicine, and is founding editor-in-chief of the Clinical Journal of Sport Medicine. He has served as team physician to Canada's Olympic hockey team and to the Vancouver Canucks team in the National Hockey League. He has received research grants from the Alberta Heritage Foundation for Medical Research, the Medical Research Council of Canada, the Natural Sciences and Engineering Research Council, and the British Columbia Health Research Foundation.