Texas Flood: The Inside Story of Stevie Ray Vaughan (Hardcover)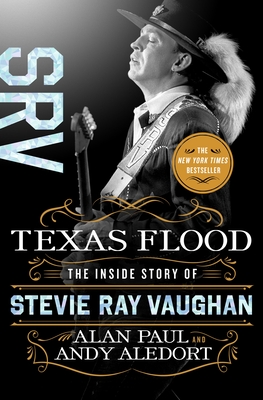 $29.99
Usually Ships in 1-5 Days
Description
---
An instant New York Times bestseller!

The definitive biography of guitar legend Stevie Ray Vaughan, with an epilogue by Jimmie Vaughan, and foreword and afterword by Double Trouble's Chris Layton and Tommy Shannon.

Just a few years after he almost died from a severe addiction to cocaine and alcohol, a clean and sober Stevie Ray Vaughan was riding high. His last album was his most critically lauded and commercially successful. He had fulfilled a lifelong dream by collaborating with his first and greatest musical hero, his brother Jimmie. His tumultuous marriage was over and he was in a new and healthy romantic relationship. Vaughan seemed poised for a new, limitless chapter of his life and career.

Instead, it all came to a shocking and sudden end on August 27, 1990, when he was killed in a helicopter crash following a dynamic performance with Eric Clapton. Just 35 years old, he left behind a powerful musical legacy and an endless stream of What Ifs. In the ensuing 29 years, Vaughan's legend and acclaim have only grown and he is now an undisputed international musical icon. Despite the cinematic scope of Vaughan's life and death, there has never been a truly proper accounting of his story. Until now.

Texas Flood provides the unadulterated truth about Stevie Ray Vaughan from those who knew him best: his brother Jimmie, his Double Trouble bandmates Tommy Shannon, Chris Layton and Reese Wynans, and many other close friends, family members, girlfriends, fellow musicians, managers and crew members.
About the Author
---
ALAN PAUL is a senior writer for Guitar World magazine and has interviewed the members of the Allman Brothers Band hundreds of times. No one has written more frequently about the band, and his work has earned the praise of Gregg Allman, Warren Haynes, Butch Trucks, and other band members.

He is the author of Big in China: My Unlikely Adventures Raising a Family, Playing the Blues, and Becoming a Star in Beijing, which is currently being developed as a film by Ivan Reitman's Montecito Pictures.

Big in China chronicles Paul's three and a half years living in Beijing with his American family. There, he formed the blues band Woodie Alan with three Chinese musicians. While in China, Paul also wrote "The Expat Life" column for the Wall Street Journal Online, and was named Online Columnist of the Year by the National Society of Newspaper columnists.
ANDY ALEDORT is recognized as an essential contributor to the international music scene for his work as a journalist, instructor and performer for the last 35 years. Over that span of time he has conducted hundreds of interviews and lessons with the world's greatest guitarists for publications such as
Guitar World, Guitar for the Practicing Magician,
and many others. He has toured and recorded with original Jimi Hendrix band mates Mitch Mitchell and Buddy Miles, with Stevie Ray Vaughan's band Double Trouble featuring Chris Layton and Tommy Shannon, and with Dickey Betts of the Allman Brothers Band. He has also sold over one million guitar instruction DVDs and teaches via online sites such as Truefire as well as privately. He lives on Long Island. Visit his website to learn more!
Praise For…
---
"An oral history is only as good as its sources, and 'Texas Flood' is thorough and far-reaching, with Vaughan's bandmates, crew and family taking center stage." —New York Times Book Review

"By collecting the voices of those who were there, authors Alan Paul and Andy Aledort get as close as possible to Vaughan's journey from record-obsessed Dallas kid to all-time guitar god, taking care to convey what made his music transcendent....Its heart is his absence, and its accomplishment is that it causes us to feel the full weight of his loss. In that, the book is its own kind of blues: stirring, cathartic, and real." —Texas Observer

"Almost 30 years after his untimely death in a helicopter crash, Stevie Ray Vaughan comes gloriously back to life in this all-out biography...Texas Flood unleashes that which made Vaughan a master musician and person."—Austin Chronicle

"Texas Flood adds greatly to the understanding and legacy of Stevie Ray Vaughan – both the man and the performer...Required reading for any SRV fan." —Houston Press

"A dynamically vivid new book that's likely the premiere option available for anyone seeking a detail-packed, insider-style account into the life and tunes of Stevie Ray." —Dallas Observer

"A fascinating backstage pass, a front row seat at the epicenter of the Texas music that unfolded in the eighties and nineties in Austin, told in the many authentic voices that shared SRV's life." —Lone Star Review

"Deep reporting makes this a treasure trove for anyone interested in the blues and Vaughan's place within popular music." —Kirkus Reviews (starred review)

"Fans will be thrilled with this intelligent, informative, and enlightening biography of the guitar great." —Publishers Weekly (starred review)

"Riveting...Vaughan deserved this book, and, as it should, the content will stay with readers long after the last note has sounded....This is the book fans have been waiting for." —Library Journal (starred review)

"A must for Vaughan and blues fans." —Booklist

"What authors (and musicians, themselves) Alan Paul and Andy Aledort manage to do quite successfully with Texas Flood: The Inside Story of Stevie Ray Vaughan is maintain the highest level of regard for Vaughan's undeniably impressive talent, as well for his devotion to late-life sobriety, while not only revealing candidly the near-lethal level of his addictions, but also his true offstage personality. Without a hint of celeb tell-all or drama mining, this is both the rawest and most reverent story of Stevie Ray." —jambands.com

"Soul Brother Stevie Ray Vaughan was a force of nature! His fearless, furious and elegant approach to the guitar was breathtaking. Texas Flood helps you understand both the player and the person. We are grateful for the gifts he left for us all. We thank God for the Vaughan family; Jimmie and Stevie are both astonishing."
—Carlos Santana

"Texas Flood provides handy insight into how Stevie Ray Vaughan became a modern day avatar for guitar slingers and music fans the world over. Stevie devoured life in no uncertain terms and his intriguing intensity comes through with a loud and clear message in this remarkable work." —Billy Gibbons, ZZ Top

"Texas Flood is a great book. It gave me a clear outside perspective into what was the center of my life, and offers a good look at Stevie and Jimmie's relationship: deeply endearing, often unseen. Good work guys."
— Chris Layton, Double Trouble

"Texas Flood is by far the best book ever written about Stevie. It not only tells the story of Stevie's career as a musician, it really captures him as a human being. That is what has been missing in every book about him till now. His whole life unfolds through these pages from beginning to end. It's a great book." —Tommy Shannon, Double Trouble

"The authors tell the story of Stevie Ray through quotes from the people who knew him best. And what a story it is!! Even I learned a lot reading all the details in Texas Flood." —Reese Wynans, Double Trouble


"Stevie Ray Vaughan played with a magical, spiritual mystery that was one of a kind. His soul shines through his music, making it meaningful, powerful, and connective. Texas Flood is a compelling book that captures the essence of an extremely gifted musician, but even more importantly, a kind and beautiful person."
—Eric Johnson, guitarist

"Texas Flood is a great book! The first in my view that got the entire narrative correct. What I'm always looking for in a book like this is, 'does it ring true'. And it does!" —Joe Sublett, the Texicali Horns, Stevie Ray Vaughan friend and collaborator

"I learned a lot reading Texas Flood, which is a well-written, well-informed accounting of someone who not only kept the blues alive but changed the future of guitar." —Warren Haynes

"Texas Flood is the perfect homage to a brilliant guitarist, written by guys who understand him and his music. As a guitar player and a fan, I can feel Stevie Ray's quest to find his tone and desire to express himself lifting off every page." —Joe Perry, Aerosmith

"A must read for any true fan of Stevie Ray Vaughan, and required reading for anyone with a beating heart. This book is an extremely moving account of one the greatest guitarists to have ever walked the planet. What I learned about Stevie's life from each chapter has made me appreciate his gift to us even more. I didn't think that was possible." —Joe Satriani

"The Stevie Ray Vaughan I knew is reflected in these pages. Texas Flood is a must-read for all his fans as well as for any artist aspiring to make it to the top of their game." —Joe Priesnitz, artist manager, first SRV booking agent

"Like all great bluesmen, Stevie Ray Vaughan is a bit of a mystery—a guitar-playing genius who hid in plain sight under the shadowy brim of his trademark hat. In this very fine book, two of our best music journalists, Alan Paul and Andy Aledort, shed much-needed light on this brilliant enigma by speaking to those that knew him best. It is essential reading for SRV fans, guitar freaks, blues aficionados and anyone interested in classic rock history." —Brad Tolinski, author of Play It Loud: An Epic History of the Style, Sound and Revolution of the Electric Guitar

"Over 35 years ago when he was still playing small clubs, I saw Stevie Ray Vaughan at Antone's in Austin. Standing so close to the stage, absolutely mesmerized, I knew I was watching a legend in the making. He was dripping with soul and already miles ahead of everyone else. A true, vital influence on my music. This book is important and long overdue." —Lucinda Williams

"Texas Flood is the definitive biography of Stevie. Set against the backdrop of Austin in a much simpler time, the book opens a window into Stevie's immense artistry, drive, and soul. A must read!" —David Grissom, Austin guitarist

"Finally, the definitive story of Stevie's life and legend told by the people who knew him best. It's an essential, breathless read for fans of his music, and a deep look into the hard-working world of the touring musician as well as the music business. Fellow six-stringers will appreciate the perspective and devotion to detail which respected music journalists and musicians Alan Paul and Andy Aledort bring to the book. Paul has become rock's finest narrative historian with this follow-up to 2015's One Way Out, his similarly composed and equally riveting biography of the Allman Brothers Band. I love this book." —Ted Drozdowski, Premier Guitar

Praise for One Way Out:

"This pot-stirring oral history reads like a backstory of how musical lightning comes to be. All of the surviving band members get to have their say." —Rolling Stone

"Alan has a way with narrative that just draws you in without using the single-level storyline used by other writers who have attempted telling the Allman Brothers Band's story. He gets right to the hows and whys that give his narrative real substance. Enjoy and become enlightened." —Butch Trucks, the Allman Brothers Band (From the Foreword)

"No journalist knows the ins and outs of the Allman Brothers Band better than Alan Paul." —Warren Haynes, the Allman Brothers Band

"I learned so much reading One Way Out. If you want to know the real deal, read Alan Paul." —Oteil Burbridge, the Allman Brothers Band

"Allman Brothers, unvarnished . . . [Alan Paul]'s vast trove of interviews allows the band to tell its own story." —Atlanta Journal Constitution

"Alan Paul is one of America's foremost experts on the Allman Brothers Band. For the past twenty years, he has written informative, comprehensive articles on the band, and he truly understands the essence of their significance. It's great to see him release this chronicle." —E.J. Devokaitis, Curator / Archivist, Allman Brothers Band Museum at the Big House

"Alan Paul's One Way Out is a brilliantly detailed all-access pass to the Allman Brothers Band. Using his numerous personal interviews with the band members themselves--both past and present--as well as an almost endless entourage of friends, family members, roadies, managers, promoters, booking agents, record label executives, and fellow musicians, Alan Paul has successfully created the definitive ABB biography." —Randy Poe, author of Skydog: The Duane Allman Story

"One Way Out is perhaps the most in-depth look at one of America's most beloved, but thoroughly dysfunctional ensembles. Engrossing reading . . . Alan Paul has written about the Allmans for the last 25 years, and his depth of knowledge shows. The stories are salty, unfiltered, and straight from the horse's mouth. The word 'definitive' gets tossed around so often it has lost some of its meaning, but this 400-page journey into the heart of rock and roll darkness deserves the accolade." —Guitar World Magazine

"No matter what you think you know about the Allman Brothers Band, One Way Out is bound to be revelatory on many levels . . . This is essential reading that strips away the myth to expose all the moving parts in vivid detail." —Seattle PI

"Music writer Paul catches up with the legendary band in this entertaining, compulsively readable oral history of the Allman Brothers. Duane's ghost haunts the book." —Publishers Weekly

"Perhaps no music journalist has written as extensively about the Allman Brothers Band as Paul, who has tracked the rock group's career for 25 years. And his deep familiarity with the band and its music shows everywhere in this fluid account. Augmented by photos and fascinating sidebars, this candid oral history has appeal beyond the Allman Brothers Band's loyal fan base." —Booklist, starred review