The Innovator's Prescription: A Disruptive Solution for Health Care (Paperback)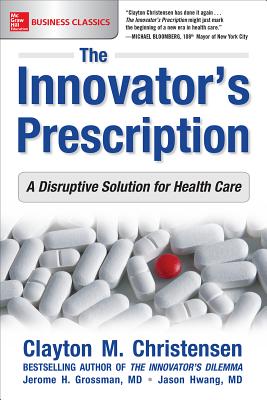 $22.00
Usually Ships in 1-5 Days
Description
---
THE BOOK THAT'S REVOLUTIONIZING HEALTH CARE IN AMERICA
A groundbreaking prescription for reform--
from a legendary leader in innovation.
"Clear, entertaining, and provocative, The Innovator's Prescription should be read by anyone who cares about improving the health and health care of all."
―Risa Lavizzo-Mourey, MD, President and CEO, Robert Wood Johnson Foundation
"Comprehensive in its vision, astute in its diagnosis, and clear in its guidance, The Innovator's Prescription offers strong medicine for a heath care system that is far from well."
--Harvey V. Fineberg, MD, President, Gordon and Betty Moore Foundation
Our health care system is in critical condition. The Affordable Care Act has insured more Americans than ever, yet deductibles keep rising and costs continue to climb. Now more than ever, the industry needs a shot in the arm. It needs The Innovator's Prescription, the now-classic approach to efficient, affordable health care. Learn how to:
- Deliver personalized care at a lower cost with "precision medicine"
- Improve quality, accessibility, and affordability using a disruptive business model
- Enable better treatment of chronic diseases through patient networks
- Diagnose problems and find solutions faster using new technology
- Take advantage of insurance and regulatory reforms to provide the best care possible

About the Author
---
Clayton M. Christensen (Boston, MA) is one of the world's top experts on innovation and growth. He is Kim B. Clark Professor of Business Administration at the Harvard Business School. Christensen is cofounder of Innosight, a management consultancy; Rose Park Advisors, an investment firm; and the Clayton Christensen Institute, a nonprofit think tank. His bestselling books include The Innovator's Dilemma, The Innovator's Solution, and Disrupting Class. The late Jerome H. Grossman, MD was the Director of the Harvard/Kennedy School Health Care Delivery Policy Program. A nationally recognized health care policy expert and a pioneer in health informatics, his leadership spanned business and health care. He served as CEO of a major medical center, chaired the Federal Reserve Bank of Boston, and cofounded four successful companies.Jason Hwang, MD (San Francisco, CA) is the cofounder and chief medical officer of Icebreaker Health (formerly PolkaDoc), a California-based health care startup transforming primary care by delivering services via smartphone app. He cofounded and was the Executive Director of Healthcare at Innosight Institute, a nonprofit social innovation think tank. Previously, Dr. Hwang was a chief resident and clinical instructor at the University of California, Irvine.