An American Family: A Memoir of Hope and Sacrifice (Large Print / Paperback)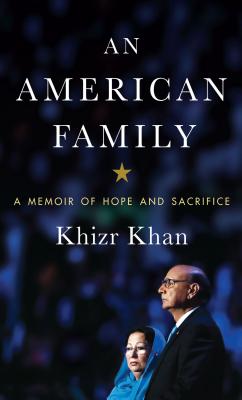 $17.99
Email or call for price
Staff Reviews
---
Dear Reader, In connection with the Scarsdale League of Women Voters' virtual event with author-activist Khizr Khan on January 30, we are pleased to offer copies of "An American Family" at a 10 percent discount. Sign up for the event at this link: http://us02web.zoom.us/webinar/register/WN_8To26pVsQYGcDdBg5A2zEg  The discount is automatically applied to online orders. For in-store purchases, just mention the LWV to receive the discount.
— Jessica and Mark
Description
---
This inspiring memoir by the Gold Star parent and captivating DNC speaker is the story of one family's pursuit of the American dream and why--especially in these tumultuous times--we must not be afraid to step forward for what we believe in when it matters most. An American Family is an intensely personal story about the nature of true patriotism and what it's like to risk everything you know for the promise of a 226-year-old piece of parchment. As Khizr Khan traces his remarkable journey--from humble beginnings on a poultry farm in Pakistan to obtaining a degree from Harvard Law School and raising a family in America--he shows what it means to leave the limitations of one's country behind for the best values and promises of another. He also tells the story of the Khans' middle child, U.S. Army Captain Humayun Khan, who was killed while protecting his base camp in Iraq, and the ways in which their undying pride in him and his sacrifice have helped them endure the deepest despair a parent can know. The book is a stark depiction of what an American looks like, what being a nation of immigrants really means, and what it is to live--rather than simply to pay lip service to--our ideals.
About the Author
---
Khizr Khan was born in 1950, the eldest of ten children, to farming parents in Gujranwala, a city in rural Pakistan. He moved to the United States with his wife, Ghazala, in 1980. The couple became American citizens in 1986 and raised their three sons in Silver Spring, Maryland. Their middle son, U.S. Army Captain Humayun Khan, was killed in 2004 while stopping a suicide attack near Baqubah, Iraq, and was posthumously awarded a Purple Heart and Bronze Star. Khan works as a legal consultant and has remained involved with the University of Virginia and its ROTC program.