Dissertations and Theses from Start to Finish: Psychology and Related Fields (Paperback)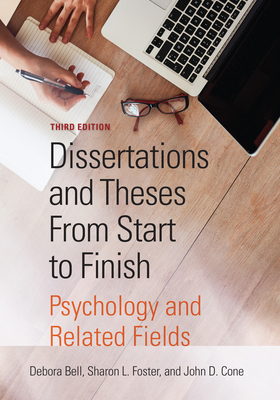 $29.99
Usually Ships in 1-5 Days
Description
---
This book guides students through the essential steps of researching and writing dissertations and theses, including: -Defining topics;
-Selecting faculty advisors;
-Scheduling time to work on the project, and;
-Conducting, analyzing, writing, presenting, and publishing research. This fully-updated third edition reflects the most recent advances in online research and includes fully updated online resources. The authors also carefully consider the variety of roles faculty advisors play, and variations in the thesis and dissertation process and requirements across institutions of higher learning.

About the Author
---
Debora Bell, PhD is Director of Clinical Training for the clinical psychology doctoral program at the University of Missouri, and Executive Director of the MU Psychological Services Clinic I also direct our new Center for Evidence-Based Youth Mental Health. In these roles, I am proud to part of outstanding education of our graduate students in clinical science research and evidence-based clinical practice, as well as part of our program's strong contributions to the scientific literature and evidence-based services delivery in the community. She lives in Columbia, MO. Visit psychology.missouri.edu/clinic. John D. Cone, PhD, earned his BA in Psychology from Stanford University and his MS and PhD from the University of Washington. He has taught at the University of Puget Sound, West Virginia University, the University of Hawaii, United States International University, San Diego State University, and Alliant International University. His research interests include the development of idiographic assessment methodology; autism intervention; and the development, implementation, and evaluation of large-scale service delivery systems, especially those for individuals with developmental disabilities. He lives in San Diego, CA. Sharon L. Foster, PhD, is a distinguished professor at Alliant International University in San Diego, California. She received her PhD in psychology in 1978 from the State University of New York at Stony Brook after completing a clinical internship at the University of Washington Medical School. She has served as an associate editor for Behavioral Assessment and the Journal of Consulting and Clinical Psychology. She is the author of numerous books, articles and book chapters on children's peer relations, assessment and treatment of parent-adolescent conflict, and research methodology. She lives in San Francisco, CA.