Pregnancy, Childbirth And The Newborn (2010) (Retired Edition) (Paperback)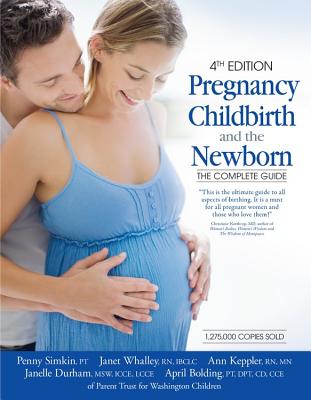 Description
---
"More readable, more attractive, and more accessible" is how pregnant couples describe the latest edition of this million plus-copy seller! And, of course, it's got all the latest medical information and advice. The new edition is designed to expand the retail market for this authoritative and complete guide.

Pregnancy, Childbirth, and the Newborn: The Complete Guide is already one of the bestselling pregnancy books on the market, with more than one million copies in print! Now newly revised and redesigned, this comprehensive, authoritative "bible" provides expectant couples with abundant, valuable information about pregnancy, labor, birth, the postpartum period, and newborn care.

This award-winning book presents the latest research-based information on pregnancy, birth, and early parenthood, including:

• New information on complementary-medicine approaches such as acupuncture
• Updated information on interventions during childbirth
• Revised statistics and discussions on cesarean birth and vaginal birth after cesarean (VBAC)
• New advice on informed decision-making, one of the hottest topics in maternity care today
• Plus much, much more!

The book has been redesigned so it's more accessible and reader-friendly, with more photos, illustrations, and boxed features that allow for important information to be highlighted. Also included in the new design are fun and informative sidebars, such as "Common Q&As" about pregnancy, childbirth, and newborn care; "In Their Own Words," in which parents describe their pregnancy, childbirth, and early parenting experiences from their point of view; and "Fact or Fiction?" in which the authors present common misinformation and the facts. New to this edition is an accompanying website, www.PCNGuide.com, where readers can find additional maternity care information as well as helpful forms and worksheets.

Mom's Choice Awards Pregnancy, Childbirth, and the Newborn (2010) – GOLD AWARD: Pregnancy & Childbirth; iParenting Media Awards Pregnancy, Childbirth & the Newborn (2009) – Best Products Winner: Book; Living Now Book Awards Pregnancy, Childbirth, and the Newborn: The Complete Guide (2009) – Family (Parenting/Health/Safety): BRONZE AWARD; National Parenting Publications Awards (NAPPA) Pregnancy, Childbirth & the Newborn (2009) – GOLD AWARD: Parenting Resources; USABookNews.com Pregnancy, Childbirth & the Newborn (2009) – WINNER: Parenting/Family: Pregnancy & Childbirth; ForeWord Magazine Book of the Year Awards Pregnancy, Childbirth & the Newborn (2008) – FINALIST: Parenting
About the Author
---
Penny Simkin, a physical therapist, has been a childbirth educator and doula since 1968. She trains childbirth educators, doulas, and doula-trainers and frequently conducts workshops for doctors, nurses, and other medical professionals.

Janet Whalley, a registered nurse and lactation consultant (IBCLC), has been a childbirth educator since 1975.

Ann Keppler, a registered nurse, parish nurse, and lactation specialist, has taught childbirth classes and new-parent classes since 1975.

Janelle Durham, a social worker, has worked with new parents since 1993. She is a birth doula, childbirth educator, and lactation educator.

April Bolding has a doctorate in physical therapy and is a childbirth educator, birth doula, water fitness instructor, and author.
Praise For…
---
"Pregnancy, Childbirth and the Newborn has been a standard guide for expecting parents since the first edition in 1979. With the 4th edition, the book has undergone some amazing changes. The pages are more graphical in design and easier to search, with each chapter broken into smaller sections. Sidebars break up the text so important information can be pointed out easily to the reader. Lots of sketches and black and white photographs adorn the pages. Easy-to-read charts describe trimester changes, sample fetal movement counts, newborn tests, procedures and much more.

The book covers everything from prenatal nutrition to making a birth plan. Doulas, pain relief options and homebirth are all presented in a fair, evenhanded manner, leaving the reader to decide what options may be best for herself and her baby. The authors have done an excellent job at outlining the many options available to pregnant and birthing women today. There is an entire chapter describing what labor may be like, as well as one about possible complications. I liked that these two were separate; moms-to-be can read about what normally happens, and then go on to learn about possible complications. The book does this with postpartum, too. There is a chapter on cesareans and one on breastfeeding.

The book also includes helpful appendices on common medications used in labor, a summary of normal labor without pain medications and recommended resources that readers may want to pursue. All in all, a wonderful book has been made even better. I would recommend all midwives keep this book in their lending library for new parents. It would also make an excellent baby shower gift."

Toni Rakestraw, Midwifery Today Issue 97—-

"A truly wonderful book for expectant families. It's informative, thorough, and helpful. We give it to all our patients, and they think it's great, too!"

—Carolyn Kline, MD, MPH, Perinatologist Eastside Maternal Fetal Medicine, Kirkland and Bellevue, WA—-

"Current research, wisdom, and women's voices together create the most comprehensive book on understanding your options. It will educate, inspire, and nurture you to make informed decisions as you welcome your baby into the world."

—Debra Pascali-Bonaro LCCE, CD (DONA), PCD (DONA), Coauthor of Orgasmic Birth: Your Guide to a Safe, Satisfying and Pleasurable Birth Experience; director, Orgasmic Birth: The Best-Kept Secret—-

"For the most part, pregnancy books are written for and read by women, but if you're a caring father (or father-to-be), this is an outstanding book. It gives the fairest and most complete descriptions of the myriad medical options available during childbirth. It is the best of the many books available."

—Tom Seager, father of three, Potsdam, NY—-

"Once again the authors have provided the right information, at the right time, and have delivered it with the kind of reassuring expertise that helps expectant parents prepare for the most meaningful moment of their lives."

—Bernie Dorsey, Founder of Conscious Fathering—-

"The material is beautifully organized and the presentation is crystal clear."

—Sheila Kitzinger, Author of The Complete Book of Pregnancy and Childbirth—-

"This book is authoritative without feeling overwhelming. It keeps the woman and her family in focus and provides a range of options. If expectant parents could have one book, this would be the one."

—Trish Booth, MA, LCCE, FACCE, Childbirth education consultant, Manlius, NY—-

"This is the revision we have been waiting for! It is the best book for parents…and a wonderful resource."

—Kathleen A. Lindstrom, CD (DONA), LCCE, FACCE, Perinatal Program Manager, Douglas College, Coquitlam, BC—-

"This is the ultimate guide to all aspects of birthing. It is a must for all pregnant women and those who love them!"

—Christiane Northrup, MD, Author of Women's Bodies, Women's Wisdom and The Wisdom of Menopause—-

"Women can only make informed choices when they're able to get comprehensive information on the many decisions that come up during pregnancy, labor, birth, and the postpartum period. This book provides such information. I heartily recommend it to all pregnant women!"

—Ina May Gaskin, Author of Ina May's Guide to Childbirth, Ina May's Guide to Breastfeeding, and Spiritual Midwifery—-