Nothing Daunted: The Unexpected Education of Two Society Girls in the West (Paperback)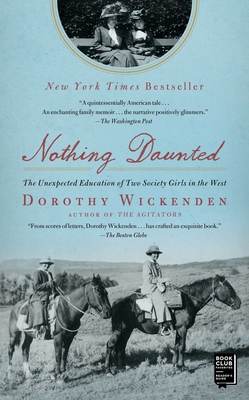 $18.99

Usually Ships in 1-5 Days
Fall '12 Reading Group List
---
"This is the biography of two spunky young Smith graduates who, in the early part of the last century, bucked the trend and society's expectations and hired on as school teachers in a remote area of Colorado. The history and period detail is compelling and brings to life the hardships and courage of the Colorado settlers and the bright and brave spirits of Dorothy Woodruff and Rosamond Underwood. I wish I'd known them!"
— Cathy Langer, Tattered Cover Book Store, Denver, CO
Description
---
From the author of The Agitators, the acclaimed and captivating true story of two restless society girls who left their affluent lives to "rough it" as teachers in the wilds of Colorado in 1916.

In the summer of 1916, Dorothy Woodruff and Rosamond Underwood, bored by society luncheons, charity work, and the effete men who courted them, left their families in Auburn, New York, to teach school in the wilds of northwestern Colorado. They lived with a family of homesteaders in the Elkhead Mountains and rode to school on horseback, often in blinding blizzards. Their students walked or skied, in tattered clothes and shoes tied together with string. The young cattle rancher who had lured them west, Ferry Carpenter, had promised them the adventure of a lifetime. He hadn't let on that they would be considered dazzling prospective brides for the locals.

Nearly a hundred years later, Dorothy Wickenden, the granddaughter of Dorothy Woodruff, found the teachers' buoyant letters home, which captured the voices of the pioneer women, the children, and other unforgettable people the women got to know. In reconstructing their journey, Wickenden has created an exhilarating saga about two intrepid women and the "settling up" of the West.
About the Author
---
Dorothy Wickenden is the author of Nothing Daunted and The Agitators and has been the executive editor of The New Yorker since January 1996. She also writes for the magazine and is the moderator of its weekly podcast The Political Scene. A former Nieman Fellow at Harvard, Wickenden was national affairs editor at Newsweek from 1993-1995, and before that was the longtime executive editor at The New Republic. She lives with her husband in Westchester, New York.
Praise For…
---
Praise for Nothing Daunted

"From the elite ethos of Smith College to the raw frontier of northwestern Colorado, two friends dared to defy the conventions of their time and station. Dorothy Wickenden tells their extraordinary story with grace and insight, transporting us back to an America suffused with a sense of adventure and of possibility. This is a wonderful book about two formidable women, the lives they led—and the legacy they left."—Jon Meacham, Pulitzer Prize-winning author of American Lion

"In Nothing Daunted, Dorothy Wickenden has beautifully captured a world in transition, a pivotal chapter not just in the life of her bold and spirited grandmother, but also in the life of the American west. Dorothy Woodruff and her friend Rosamond are like young women who walked out of a Henry James novel and headed west instead of east. Imagine Isabel Archer wrangling the ragged, half-wild children of homesteaders, whirling through dances with hopeful cowboys, and strapping on snowshoes in the middle of the night to urge a fallen horse onto an invisible trail in high snowdrifts, and you'll have some idea of the intense charm and adventure of this remarkable book."—Maile Meloy, author of Both Ways Is the Only Way I Want It

"A superb, stirring book. Through the eyes of two spirited and resourceful women from the civilized East, Wickenden makes the story of the American West engaging and personal. A delight to read." —Susan Orlean, author of The Orchid Thief

"The adventures of two well-bred Yankee ladies in the still wild West makes a remarkable, funny story. But evoked through Dorothy Wickenden's skillful use of letters, diaries, and memoirs, Nothing Daunted is also a slow parade through young America. Cowboys carefully-mannered before the ladies; the bare-legged, ragged children in their brand-new school; winter sleigh rides under the new moon—all these moments have been preserved, their colors fresh for modern wonderment: A haunting evocation of a vanished world."—Caroline Alexander, author of The Bounty and The War that Killed Achilles

"Dorothy Wickenden was lucky to have such intriguing forebears...but the satisfying depth and vivacity of Nothing Daunted, the intimate, report-from the ground American saga the author has created with that correspondence as a foundation, have nothing to do with good fortune. Wickenden's talents for research, observation, description, and narrative flow turn this unfaded snapshot of these early-20th-century women in the West into something even more resonant—a brightly painted mural of America under construction a century ago, personified by two ladies of true grit who were nothing daunted and everything enthusiastic about where the new century would take them."—Entertainment Weekly

"Wickenden has painstakingly recreated the story of how that earlier Dorothy and her friend Rosamond Underwood embarked on a brief but life-changing adventure, teaching the children of struggling homesteaders... Wickenden lets their tale of personal transformation open out to reveal the larger changes in the rough-and-tumble society of the West...Fascinating...scenes emerge with a lovely clarity"—Maria Russo, New York Times Book Review

"A superb biography... Wickenden summons up the last moments of frontier life, where books were a luxury and, when blizzards hit, homesteader's children would ski miles to school on curved barrel staves... Nothing Daunted also reminds us that different strains of courage can be found, not just on the battlefield, but on the home front, too."—Maureen Corrigan, Fresh Air

"An enchanting family memoir…A brilliant gem of Americana."—Washington Post Book World

"Wickenden brings to life two women who otherwise might be lost to history and who took part in creating the modern-day West."—Publishers Weekly

"A compelling story..."—Pittsburgh Post-Gazette

"Wickenden is a very good storyteller, and bracingly unsentimental. The sweep of the land and the stoicism of the people move her to some beautiful writing."—Joan Acocella, Newsweek

"Wickenden uses personal history to illuminate the larger story of manifest destiny." —The New Yorker

"A great story, with a richly appealing character at the center...a tale of the triumph of determination over adversity...wonderfully American." —Slate

"Dorothy Woodruff and Rosamond Underwood come alive in Nothing Daunted, Dorothy Wickenden's fascinating slice of social history... Their story is blessed with a cast of supporting characters that novelists would envy."—USA Today

"Wickenden is a lucky and talented writer... Both women spring to life in this wonderful book."—Houston Chronicle

"Lovingly pieced together."—Los Angeles Times

"Scrupulously researched... Both an entertaining and an edifying read, bringing early 20th-century Colorado to vivid life." —Bookpage

"Century-old letters composed in the wilds of Colorado by two young schoolteachers provide the backbone of this stirring narrative." —Newsweek

"Dorothy Wickenden's recounting of her grandmother Dorothy Woodruff's treacherous cross-country journey is as charming as it is rugged... This is Little House on the Praire in petticoats, and it is enchanting."—Rachel Syme, NPR.org

"Dorothy Wickenden has crafted an exquisite book."—Boston Globe

"A rich narrative... Nothing Daunted is an extraordinary book."—Denver Post

"An intimate and joyful work that captures the best spirit of the 1910s—and today."—Shelf Awareness

"Woodruff's breezy letters could easily have stood on their own, but Wickenden chose to shape them into a narrative...Her instinct was right: Nothing Daunted is at once enjoyable and enlightening."—American Way