Wild Words from Wild Women 2020 Day-to-Day Calendar (Calendar)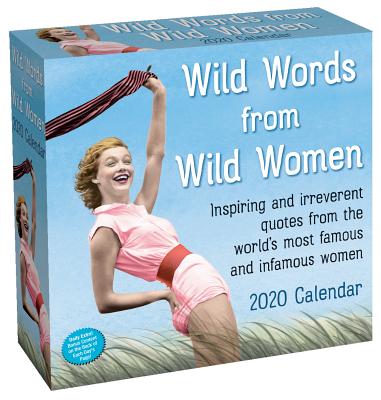 Description
---
If you've ever resisted and persisted, you may be a wild woman. If you've said "Me too" or #NeverAgain, you might be a wild woman. If you've worn a red hat or a pink knit cap, you could definitely be a wild woman. If you've ever spoken up, spoken out, or wished you had, then you are a wild woman, and this calendar is for you.

Featuring wise and witty quotes from some of the world's most noteworthy and notorious women on topics such as aging, success, relationships, politics, and more, the Wild Words from Wild Women 2020 Calendar is perfect for all the wild women in your life.
 
"The dangerous age of a woman is from one to a hundred."

—Pola Negri, silent film siren

"I never made 'Who's Who,' but I'm featured in 'What's That?'"

—Phyllis Diller, the famously frazzled comedienne

"If you don't have a seat at the table, you're probably on the menu."

—Elizabeth Warren, first woman to serve as U.S. Senator from Massachusetts

"Always be confident in what you're doing. If you're not going to be confident, you might as well not be doing it."
—Aretha Franklin, the Queen of Soul

As an added bonus, the back of each page includes daily extra content such as puzzles, jokes, lists, quotes, activities, tips, and trivia.
About the Author
---
Autumn Stephens is the author of several books in the Wild Women series and editor of two anthologies of women's first-person essays, The Secret Lives of Lawfully Wedded Wives and Roar Softly and Carry a Great Lipstick. Her essays and reporting have appeared in The New York Times, the San Francisco Chronicle, and numerous other publications. Autumn teaches private writing classes and workshops in the San Francisco Bay area. Her passions include solving the world's problems over coffee and reading in bed. She agrees with Lily Tomlin, who said that "things are going to get a lot worse before they get worse."