Seen and Unseen: What Dorothea Lange, Toyo Miyatake, and Ansel Adams's Photographs Reveal About the Japanese American Incarceration (Hardcover)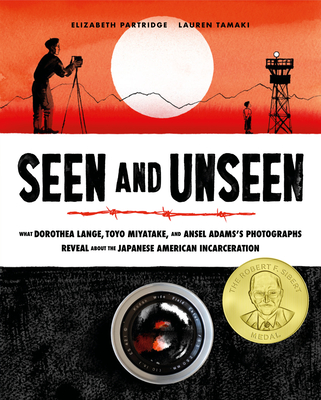 $21.99

Usually Ships in 1-5 Days
Description
---
This important work of nonfiction features powerful images of the Japanese American incarceration captured by three photographers—Dorothea Lange, Toyo Miyatake, and Ansel Adams—along with firsthand accounts of this grave moment in history.

Three months after Japan attacked Pearl Harbor in 1941, US President Franklin D. Roosevelt ordered the incarceration of all Japanese and Japanese Americans living on the West Coast of the United States. Families, teachers, farm workers—all were ordered to leave behind their homes, their businesses, and everything they owned. Japanese and Japanese Americans were forced to live under hostile conditions in incarceration camps, their futures uncertain.

Three photographers set out to document life at Manzanar, an incarceration camp in the California desert:

Dorothea Lange was a photographer from San Francisco best known for her haunting Depression-era images. Dorothea was hired by the US government to record the conditions of the camps. Deeply critical of the policy, she wanted her photos to shed light on the harsh reality of incarceration.

Toyo Miyatake was a Japanese-born, Los Angeles–based photographer who lent his artistic eye to portraying dancers, athletes, and events in the Japanese community. Imprisoned at Manzanar, he devised a way to smuggle in photographic equipment, determined to show what was really going on inside the barbed-wire confines of the camp.

Ansel Adams was an acclaimed landscape photographer and environmentalist. Hired by the director of Manzanar, Ansel hoped his carefully curated pictures would demonstrate to the rest of the United States the resilience of those in the camps.

In Seen and Unseen, Elizabeth Partridge and Lauren Tamaki weave together these photographers' images, firsthand accounts, and stunning original art to examine the history, heartbreak, and injustice of the Japanese American incarceration.

AWARENESS OF AMERICAN HISTORY: This impactful book engages with an underrepresented topic in American history, and highlights important and timely themes like primary sources, censorship, and visual literacy.

SUBSTANTIAL BACKMATTER: Featuring eighteen pages of backmatter, including an Author's and Illustrator's Note, footnotes, photo credits, biographies of each photographer, and more.

Perfect for:
Parents
Educators
Librarians
About the Author
---
Elizabeth Partridge is the acclaimed author of more than a dozen books for young readers, including biographies of Dorothea Lange, Woody Guthrie, and John Lennon. Her books have received many honors, including National Book Award finalist, Boston Globe–Horn Book Award, Los Angeles Times Book Prize, ALA Michael L. Printz Honor, and Jane Addams Children's Book Award.

The goddaughter of Dorothea Lange, Elizabeth grew up surrounded by Dorothea's photographs. She always knew her godmother wanted to bear witness to important and difficult times in American history with her camera. Dorothea's photograph of Torazo Sakawye, carrying his young grandson on his shoulders down a dusty Manzanar street inspired Elizabeth to begin writing this book, which seeks to illuminate the stories behind the photos.

Visit her online at www.elizabethpartridge.com.

Lauren Tamaki is a Canadian illustrator living in New York. Her clients include The New York Times, The Wall Street Journal, Pentagram, Penguin, The New Yorker, and Disney, and her work has been recognized by the Society of Illustrators, the Society for News Design, AI-AP, and the National Magazine Awards.

Having grown up in Calgary as a fourth-generation Japanese Canadian, Lauren was inspired by this project to learn more about her grandparents, who both had experiences with incarceration camps in British Columbia. Through her research, she discovered that her grandfather used his law degree to fight for the rights of incarcerated Japanese Canadians after they were released. Connecting with her family's history was a source of pride for Lauren as she brought the experiences of incarcerated people to life in the pages of this book.

Visit her online at www.laurentamaki.com.
Praise For…
---
"Any kid into graphic novels and comics is going to fall naturally into reading this factual history. The transition is almost seamless. As books about this moment in history go, Seen and Unseen has gotta be one of the most enjoyable I've ever encountered…a pleasure to read. The mix of illustration and photography is expertly done, the text never thick and dull. You are sucked into Partridge's telling and Tamaki's art from the get go…. History, photography, comic art, and a distinctly contemporary take on telling kids the truth about the past. What could be better?" - Betsy Bird, School Library Journal

"Any kid into graphic novels and comics is going to fall naturally into reading this factual history. The transition is almost seamless. As books about this moment in history go, Seen and Unseen has gotta be one of the most enjoyable I've ever encountered…a pleasure to read. The mix of illustration and photography is expertly done, the text never thick and dull. You are sucked into Partridge's telling and Tamaki's art from the get go…. History, photography, comic art, and a distinctly contemporary take on telling kids the truth about the past. What could be better?" - Betsy Bird, School Library Journal

"Accessible main text and primary-source quotes combined with remarkably creative use of contemporary illustrations and archival photographs results in a uniquely crafted and engaging historical narrative." - The Horn Book

"Powerful visuals…accompanied by clear, straightforward text, this arresting work brings history to vivid life. A bold combination of art, media, and records create a compelling read." -Kirkus Reviews, starred review