The 7-Day Acid Reflux Diet: Cure Acid Reflux, GERD and Heartburn NOW with the Easy to Follow Lifestyle, Diet and 45 Mouth-Watering Recipes (Paperback)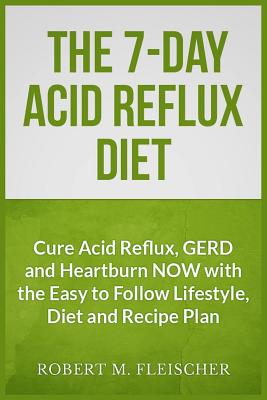 Description
---
Acid Reflux Exposed
Maybe you don't realize it, but in the next few moments you're going to learn how to take control of the pain and discomfort you've been experiencing for such a long time.
You know the uncomfortable burning sensation in your chest. The fear of eating a decent meal, and the inconvenience of having to always have antacids with you.
In his book Robert offers you a proven step-by-step approach to gradually decrease the need for antacids, while safely eliminating the causes of acid reflux and so ensuring relief.
In this book you'll:
Find out how to check if what you're experiencing is acid reflux, or something more serious.
Uncover what factors are responsible for your GERD
Discover little-known symptoms of acid reflux (these might surprise you)
It's a fact that not only adults suffer from acid reflux, but children and even infants too. What if your child or a child you deeply care about suffers from this painful condition? This is your opportunity to gain the knowledge that could make a difference.
You'll learn:
How acid reflux can turn deadly, and the steps you can take to prevent this
Serious and debilitating complications you should know about
How using conventional treatments could be putting you at risk for more threatening health conditions
You probably already know that conventional treatment only serves to mask the symptoms; and in this book you'll discover how you have more control over your well-being than just popping a pill. Instead of masking your symptoms, rather uncover the true causes. The further on you read, you'll begin to understand how essential it is to be armed with this knowledge. You'll learn some simple strategies that can help you quickly improve heartburn and acid reflux, including an Emergency 7-Day Treatment Plan to have you feeling better within just one week.
A little taste of what you'll discover:
7 trigger foods
How to fight GERD with bacteria
How fun, relaxation and a little time for yourself can help relieve GERD
and much more ...
Everything is outlined for you, step by step, complete with menu plan and 45 surprisingly mouth-watering recipes.
Drift back in time to when eating was pure pleasure, with no pain or fear to go with that. Imagine what it would be like if you could eat a meal without having any discomfort. What will this mean for you?
Fact. Acid reflux won't get better by itself, but you have in this book all the know-how and tools to get amazing results.
To ensure your well-being and the well-being of those you care about, get your copy now
BONUS BOOK
Get a FREE BONUS copy of the best-selling ebook: Nutrition Essentials
The Food Pyramid
Correct Proteins For Weight Loss
Correct Carbs For Weight Loss
Correct Fats For Weight Loss
What About Organic And Raw Foods
Don't put it off Get your copy TODAY
About the Author
---
Besides being a noted author, Robert M. Fleischer is a California-based health researcher, husband and a father of 2 children, one boy and one girl. He has dedicated his career to developing better standards of care and treatment for patients of common, chronic and misunderstood conditions which are often handled with pharmaceuticals to treat the symptoms rather than lifestyle changes which address the root cause. In his spare time he enjoys tennis, mountain biking and is a member of a local amateur theater group.