The List (Paperback)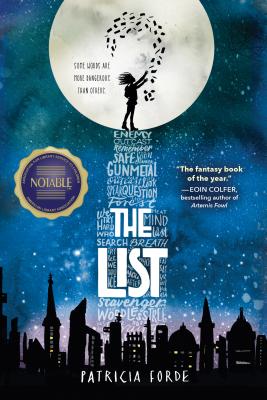 $9.99

Usually Ships in 1-5 Days
Description
---
Fahrenheit 451 meets The Giver in an award winning dystopian story about the dangers of censorship and how far we will go in the pursuit of freedom.
What if you were only allowed to speak 500 words?
The city of Ark is the last safe place on Earth: the polar ice caps have melted and flooded everything, leaving few survivors. To make sure humans do not make the same mistakes, Ark's leader John Noa decrees everyone in Ark must speak List, a language of only 500 words. Language is to blame for mankind's destruction, John Noa says, as politicians and governments hid the disastrous effects of global warming and environmental damage until it was too late.
Everyone must speak List … except Letta.
As apprentice to the Wordsmith, Letta can read all the words that have ever existed. Forbidden words like freedom, music, and even pineapple tell her about a world she's never known.
One day her master disappears. John Noa tells Letta she is the new Wordsmith, and must shorten List to fewer and fewer words. Then Letta meets a teenage boy who somehow knows all the words that have been banned. Letta's faced with a dangerous choice: sit idly by and watch language slowly slip away or follow a stranger on a path to freedom . . . or banishment.
Letta chooses to fight for the very thing that keeps us human: language itself.
The List:
The perfect tool to discuss censorship and freedom of speech with young readers
A gripping, fast-moving story that will appeal to 5th grade readers and above, especially 10 year old girls that will love the strong character of Letta
A discussion starter on the importance of language and the power of expression, and what it means for society
A 2018 Notable Children's Books Selection
A 2018-19 Maine Student Book Award Winner
A 2018 Bank Street College of Education Best Children's Book of the Year (Ages 12-14)
A Junior Library Guild Selection
About the Author
---
Patricia Forde lives in Galway, in the west of Ireland. She has published five books for children and written for television. In another life, she was a primary school teacher and the artistic director of Galway Arts Festival. Visit Patricia at patriciaforde.com.