AP Calculus Premium: With 12 Practice Tests (Barron's Test Prep) (Paperback)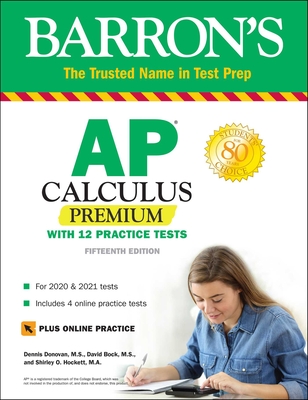 $24.99
Usually Ships in 1-5 Days
Description
---
Barron's AP Calculus Premium has all the comprehensive review and practice tests you need for the AP Calculus AB and BC exams. Detailed subject review helps you master the test topics, while practice tests help you apply your skills so you can face test day with confidence.
Written by experienced teachers who know the test, this premium edition features:
Comprehensive content review covering topics for both AB and BC exams
Six practice tests in Calculus AB: four in the book and two online
Six practice tests in Calculus BC: four in the book and two online
Advice on how to use your graphing calculators efficiently
About the Author
---
About the Authors
David Bock taught AP Calculus during his 35 years at Ithaca High School, and served for several years as an Exam Reader for the College Board. He also taught mathematics at Tompkins-Cortland Community College, Ithaca College, and Cornell University. A recipient of several local, state, and national teaching awards, Dave has coauthored five textbooks, and now leads workshops for AP teachers.

Dennis Donovan teaches AP Calculus AB and BC and AP Statistics at Xaverian Brothers High School in Westwood, MA. He is a College Board consultant for AP Calculus and presents one-day and two-day workshops and leads AP Summer Institutes. He is a grader for the AP Calculus Exam. He is also a T3 Regional Instructor concentrating on the TI-Nspire.

About the Publisher
In the 1930s, Manuel H. Barron opened a bookstore in Brooklyn, New York. 

People from the community asked Mr. Barron about books that might be available to help their children study for the New York State Regents exams. After realizing there wasn't anything available, Mr. Barron's created his own study guides.

80 years later, Barron's has helped millions of people prepare for their next step.