Listen, World!: How the Intrepid Elsie Robinson Became America's Most-Read Woman (Hardcover)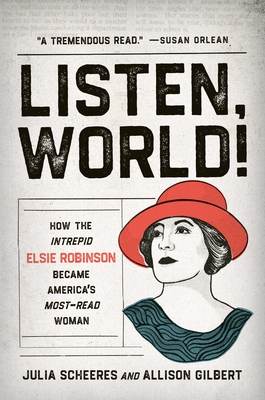 $30.00

Usually Ships in 1-5 Days
Description
---
*Winner of the 2023 Northern California Book Award*
The first biography of Elsie Robinson, the most influential newspaper columnist you've never heard of
At thirty-five, Elsie Robinson feared she'd lost it all. Reeling from a scandalous divorce in 1917, she had no means to support herself and her chronically ill son. She dreamed of becoming a writer and was willing to sacrifice everything for this goal, even swinging a pickax in a gold mine to pay the bills.
When the mine shut down, she moved to the Bay Area. Armed with moxie and samples of her work, she barged into the offices of the Oakland Tribune and was hired on the spot. She went on to become a nationally syndicated columnist and household name whose column ran for over thirty years and garnered more than twenty million readers.
Told in cinematic detail by bestselling author Julia Scheeres and award-winning journalist Allison Gilbert, Listen, World! is the inspiring story of a timeless maverick, capturing what it means to take a gamble on self-fulfillment and find freedom along the way.
About the Author
---
Julia Scheeres is the author of the New York Times–bestselling memoir Jesus Land and the award-winning A Thousand Lives: The Untold Story of Jonestown. She lives in Northern California.
Allison Gilbert is an award-winning journalist and author of numerous books including Passed and Present and Parentless Parents. She lives outside New York City.
Praise For…
---
*Winner of the 2023 Northern California Book Award*—--

"That we suffer from a shortage of women's histories is not new information. But Robinson's obscurity feels particularly surprising when you consider both her popularity and the dramatic life behind her hard-won sagacity…. Scheeres and Gilbert attempt to resurrect Elsie, fill in her biography and place her in the pantheon of women we should know about. The result is an engaging tale that doesn't gloss over the extreme adversity and restrictions Robinson faced as a woman of much ambition and few means."—New York Times

"As pioneering women journalists finally begin to get the recognition they deserve, the name Elsie Robinson is rarely part of the conversation. Julia Scheeres and Allison Gilbert aim to change that with….the first biography of this forgotten California dynamo...The allure is apparent."—Washington Post

"Lively…Ms. Scheeres and Ms. Gilbert have made an important contribution to women's history."—Wall Street Journal

"Listen, World! tells the story of Robinson, a journalist largely lost to history, whose writing at the peak of her career reached over 20 million readers a day...The book's prose is clear and engaging, with vivid descriptions."—San Francisco Chronicle

"Listen, World! is the rarest of things — a lively piece of unknown history, a marvelous story of a woman's triumph, and a tremendous read. Scheeres and Gilbert have managed the trifecta, and we readers are the better for it."
 —Susan Orlean, New York Times bestselling author of The Library Book

"'Credit to Julia Scheeres and Allison Gilbert for beavering away, travelling to [Elsie Robinson's] old haunts, rebuilding a remarkable story and setting it with punctilious care in the period she lived through. This is a book you want to lend to all women who write. If it wasn't for fear you mightn't get it back."
 —Times Literary Supplement

"An engaging tale… One does not tire of spending time with Elsie Robinson, nor stop wondering how many other women, with equally compelling tales, have also been lost to history."
 —New York Times

"A page-turning biography…This entertaining account delivers."—Publishers Weekly

"Page-turning detail… This engaging and well-researched biography reads like a novel and should appeal to readers interested in journalism, women's studies, and adventure tales alike."—Library Journal

"A fascinating topic and solid biography that should please women's history fans."—Booklist

"If you are a fan of spunky, spitfire heroines in the tradition of Hester Prynne, Elizabeth Bennett and Jo March, you will love the true story of Elsie Robinson. Robinson was a maverick who chased wild dreams of adventure and independence instead of surrendering to her wealthy but soul-crushing husband – and ended up as one of the highest-paid, most-read writers in America. Like Elsie herself, Listen, World! is broadminded, sharp-witted, fast-paced, and funny.  It reads like a breezy novel that lingers long after you've read the last page. I loved every word of it."
 —Debby Applegate, Pulitzer Prize-winning historian and author of Madam

"Open this well-crafted and entertaining biography and it will become abundantly clear why Elsie Robinson was once one of this nation's most celebrated and beloved columnists. Julia Scheeres and Allison Gilbert's teamwork resurrects the life and work of this dauntless twentieth-century newspaperwoman, from her days toiling deep down in a gold mine to the heights of stardom in the Hearst newspaper galaxy. For decades, readers by the millions turned to Robinson for a dash of hope and a dose of encouragement. Now thanks to Scheeres and Gilbert, millions of twenty-first century readers can too."
 —James McGrath Morris, author of Pulitzer

"A riveting story about a woman who had nerve."
 —Jill Abramson, former executive editor of the New York Times and author of Merchants of Truth

"The long-forgotten 'most interesting woman in the world' comes vividly to life in this captivating new biography. The multi-talented Elsie Robinson would have been a pioneering and estimable person had she lived today; that she became a revered journalistic and literary voice at a time when women were marginalized is testament to her force of nature. Listen, World! is an important read particularly as we work to bolster women's overlooked place in history."
 —Lisa Napoli, author of Susan, Linda, Nina & Cokie

"Read and enjoyed Listen, World! I am sure that Listen, World! will reach the many readers it deserves."—Erica Jong