The Gastroparesis Cookbook: 102 Delicious, Nutritious Recipes for Gastroparesis Relief (Paperback)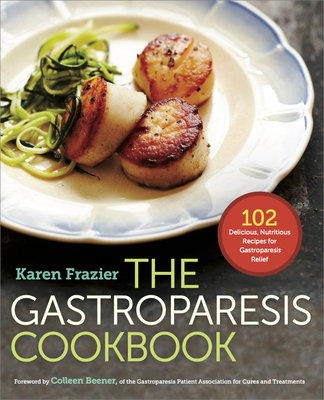 $16.99
Usually Ships in 1-5 Days
Description
---
" Karen] understands our issues and has come up with pleasing flavors and textures that are gentle on our tummies." - Colleen Beener, G-PACT Operations Director and Gastroparesis Advocate
While diet alone cannot cure Gastroparesis, carefully managing what you eat can help control your symptoms. The Gastroparesis Cookbook incorporates healthy, whole foods into Gastroparesis-friendly recipes, alongside tips and supportive stories from people managing Gastroparesis.
Managing your meals with Gastroparesis is tasty and easy, with:
Over 100 easy-to-prepare, nutritious Gastroparesis-friendly recipes, including several family-friendly and slow cooker versions.
A simple two-week Gastroparesis meal plan for easing symptoms.
Helpful cooking and shopping tips to cut down on prep time.
Recipes for managing coexisting conditions like diabetes, GERD, IBS, and more.
Real-life stories and advice from members of the Gastroparesis Patients Association for Cures and Treatments (G-PACT).
Make the foods you eat count. The Gastroparesis Cookbook shows you how to eat smart every day, every meal.
About the Author
---
Karen Frazier is a nutrition and fitness expert who specializes in cookbooks for special need diets. Diagnosed in her early 40s with celiac disease and an acute dairy allergy, she understands how challenging it can be to eat a restricted diet that is both healthful and satisfying. Karen is the author of The Hashimoto's Cookbook and Action Plan and Nutrition Facts. She is also the Health editor of LoveToKnow.com.