My Kindergarten Workbook: 101 Games and Activities to Support Kindergarten Skills (My Workbook) (Paperback)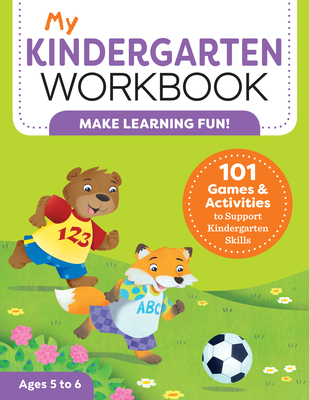 $12.99

Usually Ships in 1-5 Days
Description
---
Whether working on Kindergarten readiness or boosting skills during the year, expand the learning and increase the fun with 101 engaging and educational activities for kids ages 5-6.
Discover a great way to keep the learning going all year round. Bursting with exciting challenges,
My Kindergarten Workbook
is an educational activity book that your young student will love. From word searches and color-by-numbers to crosswords and counting puzzles, your child will discover loads of enjoyable games and activities that help them practice their skills to get a head start in school.
My Kindergarten Workbook includes:
GAMES & ACTIVITIES GALORE: Make sure the learning lasts with 100+ amazing activities sure to keep your young one entertained- from games with words to coloring fun.
EDUCATIONAL FUN: Combine education and fun! Watch your child light up as they explore a kindergarten workbook that transforms games they'll love into lots of learning.
MADE FOR KINDERGARTENERS: Continue your child's education with a kindergarten workbook specially designed to build on what they've been learning in school: letters, reading, early math, science, social studies, and more. Help them access their full potential.
About the Author
---
BRITTANY LYNCH is the author of My First Kindergarten Workbook and My First Grade Workbook. After teaching in the primary grades for eight years, she is now a curriculum author who helps provide resources for elementary teachers around the world. To find out more about her work, visit TickledPinkInPrimary.com.
Praise For…
---
"Starting Kindergarten is a HUGE step in a child's life! As a primary teacher and Kindergarten parent, I know that this workbook offers activities children can work on enthusiastically while providing the right kind of practice in the essential skills they need for success as they begin school. Whether you are looking for a way to better prepare your child for their learning journey or support them throughout, this workbook is it! The activities and games included in this workbook make learning FUN for kids!"—Elyse Rycroft, Creator of Proud to be Primary

"As a retired Kindergarten teacher, I understand the importance for young learners to master required early skills. My Kindergarten Workbook is a valuable resource to ensure children will have the foundation for a successful start in their educational journey. The workbook not only covers all areas essential for Kindergarten, but is also filled with stimulating and engaging activities that build confidence and make learning fun. This workbook is a definite must-have!"—Jackie Harker, M.Ed., Educator of 33 years, Learning Coach/Advisor at Ben Davis University High School

"My daughter starts kindergarten this fall and loves doing workbooks during quiet time at home, so this book is just what I needed this summer. The activities in this workbook are fun and engaging and she loves coloring the stars inside the front cover each time she completes an activity. Great extra practice to keep her skills fresh over the summer!"—Jessica Plemons, Curriculum creator and education blogger at Mrs. Plemons' Kindergarten