Gold Is a Better Way: And Other Wealth Building Secrets Wall Street Doesn't Want You to Know (Paperback)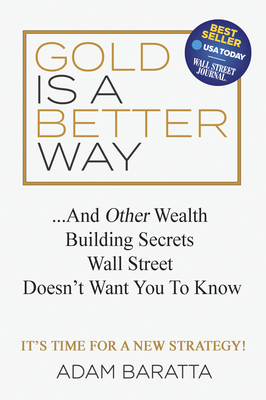 $17.95

Usually Ships in 1-5 Days
Description
---
The shocking truth about where the markets are headed and why owning physical gold--not paper assets--is a far better strategy to building real wealth.
An indispensable resource for the everyday investor, Gold Is A Better Way turns the strategies recommended by Wall Street on their head and makes the case for a return to sound investing.
Adam Baratta strips away all the confusion and complexities surrounding investing and breaks down investment concepts and the simple fundamentals driving markets. He provides a roadmap for how to win at the game of investing and, more importantly, explains the "why" so readers can continue to win. Everyday investors gain tools that allow them to know with certainty they are making sound investment decisions, as well as an understanding of where to diversify investments that have historically performed well.
There is a massive environmental shift happening in financial markets. Interest rates are rising and what has been very easy for investors in the past is about to become very hard. Everything people think they know about investing is being turned on its head. It's time to change investing behavior.
"A fresh new voice in the world of gold . . . Baratta's book and cutting edge platform make the undeniable case why gold demands consideration in every portfolio." --ZeroHedge.