Walt Disney's Donald Duck "The Secret of Hondorica": The Complete Carl Barks Disney Library Vol. 17 (Hardcover)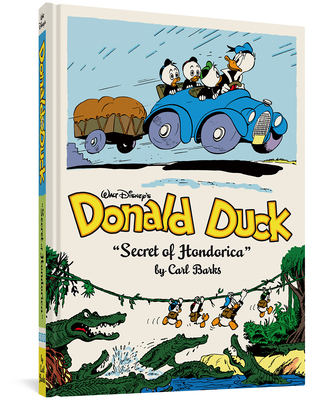 $35.00
Email or call for price
Other Books in Series
This is book number 17 in the The Complete Carl Barks Disney Library series.
December 2011 Indie Next List
---
"In Carl Barks' Duckburg we see all the human frailties: Donald Duck's anger, Scrooge's ambition, the Beagle Boys' greed. Barks was a virtuoso artist and writer who combined breakneck action with detailed and subtle art. You will find a master at his peak in 'Lost in the Andes,' and your inner-child will thank you."
— Eric Schultheis, Books Inc., Berkeley, CA
Description
---
The Disney Ducks go on a perilous jungle quest and start a risky business!
When Uncle Scrooge loses some vital papers in a plane crash in the jungles of Hondorica, he sends Donald and his nephews to rescue them. But wily cousin Gladstone Gander gets wind of the expedition and decides to get there first — to claim the reward for himself! Then Donald becomes a sales agent for the Break & Bruise Insurance Co. and sells a policy to Uncle Scrooge. But Scrooge is determined to collect, so Donald has to become his bodyguard to protect him from harm. And when the Junior Woodchuck boys are challenged by the Chickadee Patrol girls to build a wilderness bridge, Donald's efforts to help put him in danger — and the boys have to choose between rescuing him and winning the contest. 
About the Author
---
Carl Barks (1901-2000, b. Merrill, Oregon; d. Grants Pass, Oregon), one of the most brilliant cartoonists of the 20th century, entertained millions around the world with his timeless tales of Donald Duck and Barks's most famous character creation, Uncle Scrooge. Over the course of his career, he wrote and drew more than 500 comics stories totaling more than 6,000 pages, most anonymously. He achieved international acclaim only after he semi-retired in 1968. Among many other honors, Barks was one of the three initial inductees into the Will Eisner Comic Awards Hall of Fame in 1987. (The other two were Jack Kirby and Will Eisner.) In 1991, Barks became the first Disney comic book artist to be recognized as a "Disney Legend," a special award created by Disney "to acknowledge and honor the many individuals whose imagination, talents, and dreams have created the Disney magic." He has been similarly honored in many other countries around the world.

David Gerstein is an animation and comics researcher, writer, and editor best known for his work with The Walt Disney Company and its licensees. His published projects include Uncle Scrooge and Donald Duck: The Don Rosa Library (Fantagraphics, 2014-2018) and Mickey Mouse: The Ultimate History (with J.B. Kaufman; Taschen, 2018). He lives in North Carolina.