Walt Disney's Uncle Scrooge "The Mines of King Solomon": The Complete Carl Barks Disney Library Vol. 20 (Hardcover)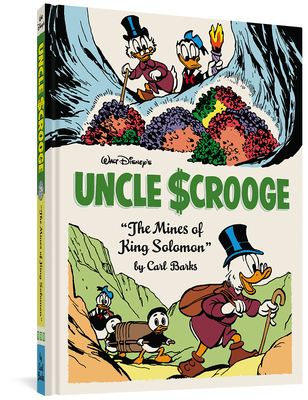 $29.99
Email or call for price
Description
---
Uncle Scrooge discovers the fabled lost treasure of King Solomon!
When Uncle Scrooge decides to take Donald and the nephews on a world tour to inspect the many businesses in his far-flung empire, he never dreamed he'd wind up uncovering the fabled lost treasure of the even-more fabled King Solomon! Then, to settle a bet over who's the better salesman, Scrooge and Donald wind up in Southeast Asia - and Donald's winning! Until Scrooge notices something unusual about the local architecture in "City of Golden Roofs." And the Beagle Boys come calling again with a devious scheme to drill Scrooge's money right out from under him! Plus: the oddball inventions of the ever-eccentric Gyro Gearloose! Carl Barks delivers another superb collection of clever plot twists, laugh-out-loud comedy, and all-around comic book brilliance.
About the Author
---
Carl Barks (1901-2000, b. Merrill, Oregon; d. Grants Pass, Oregon), one of the most brilliant cartoonists of the 20th century, entertained millions around the world with his timeless tales of Donald Duck and Barks's most famous character creation, Uncle Scrooge. Over the course of his career, he wrote and drew more than 500 comics stories totaling more than 6,000 pages, most anonymously. He achieved international acclaim only after he semi-retired in 1968. Among many other honors, Barks was one of the three initial inductees into the Will Eisner Comic Awards Hall of Fame in 1987. (The other two were Jack Kirby and Will Eisner.) In 1991, Barks became the first Disney comic book artist to be recognized as a "Disney Legend," a special award created by Disney "to acknowledge and honor the many individuals whose imagination, talents, and dreams have created the Disney magic." He has been similarly honored in many other countries around the world.