Faust: A Tragedy, Part I (Hardcover)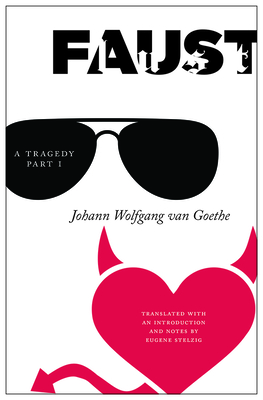 $39.95
Email or call for price.
Description
---
Goethe is the most famous German author, and the poetic drama Faust, Part I (1808) is his best-known work, one that stands in the company of other leading canonical works of European literature such as Dante's Inferno and Shakespeare's Hamlet. This is the first new translation into English since David Constantine's 2005 version. Why another translation when there are several currently in print? To invoke Goethe's own authority when speaking of his favorite author, Shakespeare, Goethe asserts that so much has already been said about the poet-dramatist "that it would seem there's nothing left to say," but adds, "yet it is the peculiar attribute of the spirit that it constantly motivates the spirit." Goethe's great dramatic poem continues to speak to us in new ways as we and our world continually change, and thus a new or updated translation is always necessary to bring to light Faust's almost inexhaustible, mysterious, and enchanting poetic and cultural power. Eugene Stelzig's new translation renders the text of the play in clear and crisp English for a contemporary undergraduate audience while at the same time maintaining its leading poetic features, including the use of rhyme. 

Published by Bucknell University Press. Distributed worldwide by Rutgers University Press.
About the Author
---
EUGENE STELZIG is the author of several books, including Henry Crabb Robinson in Germany (Bucknell University Press). He has also published translations of German poetry in the Seneca Review. 
Praise For…
---
Stelzig's translation is an excellent and unusually accessible introduction to Goethe's text for college students. Its dramatic prose with occasional rhyme catches the basic tone of Goethe's play and loosely follows the lineation of the original. Accurate and clear enough to stand on its own with minimal annotation, lively enough to keep students reading and to read aloud in class, it is a superb choice for world literature courses or for departmental courses in translation.
— Jane K. Brown

This exciting new translation of Goethe's Faust brings the text to life for a contemporary audience. Stelzig's 'flexible' approach to poetic translation is eminently successful: the complexity of the text is allowed to emerge without completely sacrificing its poetry. I highly recommend it--especially for the classroom and first-time English readers of Faust.
— Astrida Tantillo

"The renewing potential of translation—indeed, of any act of cultural transmission—lies at the heart of so many of Goethe's works, and Stelzig has succeeded in crafting a vibrant English version of this masterpiece."
— Eighteenth-Century Studies

"This translation successfully captures the power of the text and maintains, as best as possible, fidelity to the original, even as the author has made many choices to produce a readable and quite modern Faust."
— The Wordsworth Circle

"Stelzig's translation succeeds in establishing this desired rapport between Goethe's German text and English-speaking readers of the twenty-first century. By using contemporary but not overly colloquial language, by conveying some of the range of Goethe's explicit and implicit meaning, and by creating a text with sonorous, poetic qualities, Stelzig has produced a translation that will make Goethe's work accessible to a range of readers. It would certainly be appropriate for undergraduate literature courses; the scholarly apparatus (introduction and notes) is informative without being pedantic. The translation would, I think, also lend itself to use in theatrical performances."
— European Romantic Review