How to Analyze People: The Ultimate Psychology Guide to Analyzing, Reading and Influencing People Using Body Language, Emotional Intelligence (Hardcover)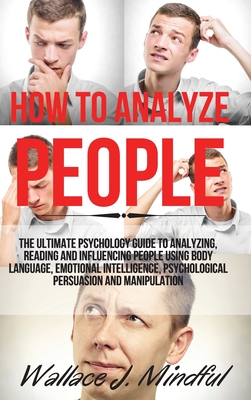 Description
---
If you've always wanted to learn how to analyze people but don't know where to start then keep reading...
Are you sick and tired of not being able to read people?
Have you studied endless other body language articles and guides from the so-called "experts" but nothing seems to work?
If so, then you've come to the right place.
You see, analyzing people doesn't have to be difficult.
You don't have to have a degree in psychology or years of training to know how to read people quickly.
This guide boils down the unneeded details and leaves you with the practical, real-world skills to analyze people on the spot.
In fact, it's easier than you think.
Here's just a tiny fraction of what you'll discover:
How to develop your perception and intuition to automatically pick up on body language clues
The biggest mistake people make when trying to read people
How to instantly spot the most powerful person in the room
The #1 thing to look for to know if someone is intelligent (It's not what you think)
The BIG signs someone is lying to you
Little-known speech clues that give you a ton of information about a person's personality and mindset
Surefire signals he or she is romantically interested in you (This is different for men and women)
...and much, much more
Take a second to imagine how your day-to-day life will change when you can instantly analyze people everywhere you go.
So even if you've tried to learn these skills before but still feel lost and frustrated, this guide will give you the practical tools and knowledge to read and understand people in a way few others ever will.
And if you have a burning desire to finally learn how to analyze people then scroll up and click "add to cart"