Michael Foreman: A Life in Pictures (Hardcover)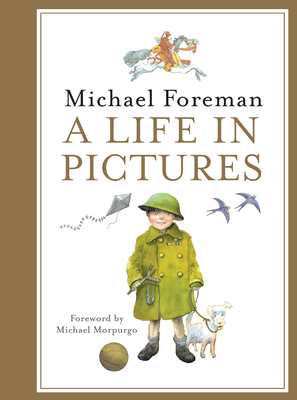 $39.95
Email or call for price.
Description
---
One of my earliest memories is lying on the floor in front of the kitchen fire, drawing.

During the war, paper was in short supply but, the large biscuit tins delivered to his Mum's shop were lined with white paper. The tins were about 12 inches square, so unfolded, the paper would be four feet long←perfect for drawings of marching soldiers and convoys of tanks, the village traffic of his childhood. This is a celebration of Michael's life as a master storyteller and illustrator told through his own autobiographical tales, diary extracts, original sketches and illustrations from his award-winning publications. Beginning with his childhood in wartime Suffolk and his early career as a young artist, and culminating with his collaborations with world-famous authors Terry Jones, Michael Morpurgo and Quentin 'BLOOMIN' Blake, this book showcases his "greatest hits," and reveals the places, stories and people that inspired him along the way. Divided into three parts: Memories of Childhood (Looking through War Boy, After the War Was Over and War Game.) Far-Flung Places (Looking through Treasure Island, Wind in the Willows, Alice in Wonderland, Wizard of Oz, World of Fairy Tales and Classic Fairy Tales.) Friends and Collaborators (Looking through Eric the Viking, Fairy Tales, Nicobobinus, Animal Tales, Fantastic Stories, Arthur, Robin Hood, Joan of Arc, Billy the Kid and Farm Boy.)
About the Author
---
Michael Foreman's numerous books for children have earned him widespread recognition as one of the world's leading illustrators. He has regularly collaborated with Terry Jones, Michael Morpurgo and others while several of his own books are also considered modern classics. Titles include War Boy, War Game, Terry Jones's Erik the Viking and Animal Tales, Michael Morpurgo's Farm Boy and many more. Michael Morpurgo is a former Children's Laureate and one of the most successful children's authors in the UK. Michael has written more than 40 books, including The Butterfly Lion, Kensuke's Kingdom, and War Horse.
Praise For…
---
"this selection will be of interest to young fans of Foreman, and students of art and chidren's literature"--School Library Journal, June 2016 issue.