Tara: The terrier who sailed around the world (Paperback)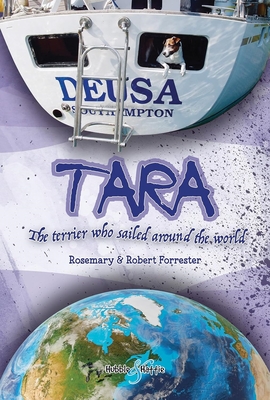 $14.99
Email or call for price
Description
---
"Tara, the terrier who sailed around the world" is the exciting and touching story of a Jack Russell who had at least nine lives - and many more adventures - with her owners, Rosemary and Robert Forrester, as they sailed around the world on a yacht.
The story begins when Robert flies from Columbia to Florida to buy some essential boat parts, and returns with a six-week-old puppy. Rosemary is both delighted and anxious: how will a dog as lively as a Jack Russell adapt to living at sea?

This tiny dog has to learn how to keep her balance on a boat which is tilting sideways one minute, then crashing down on a wave the next; how to find a way to play ball without being washed into the ocean; how to learn to eat fish instead of meat; how to swim in the sea and get back on the boat; how to see-off all potential intruders, including marauding seagulls and customs officials.
Above all, Tara has to learn how to survive when she is washed overboard - not once, but twice. Rosemary recounts their incredible adventures as they sail from the Panama Canal to Australia, and on to Malaysia and Thailand, where they survive the Boxing Day Tsunami. Finally, their journey takes them through the Indian Ocean to Mozambique, where Tara ends her days.
For animal lovers everywhere - especially those who like travel and sailing boats - this is an emotional and uniquely entertaining tale.
About the Author
---
Rosemary Forrester left England in 1947, when her parents bought a farm in South Africa, and later went farming in Rhodesia. She married Robert in 1968 and, six years later, they bought a camping Land Rover and travelled with a parrot through South America, finally settling in Rio de Janeiro, where they owned a day sailing boat. When Robert's brother died young of cancer, they decided life was too short, bought a yacht, and cruised the world on-and-off for the next 20 years, 10 of which they were joined by Tara, their Jack Russell terrier.