Hydroponics: The Beginner's Guide to Easily Build Your Own Hydroponic Garden. How to Quickly Start Growing Vegetables, Fruits, and (Hardcover)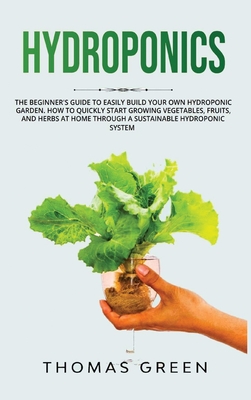 $33.90
Email or call for price.
Description
---
Get this book with 55% discount
Among modern methods of growing crops, Hydroponics occupies a special place as an environmentally friendly, resource-saving, and high potential technology.
Its further development and improvement of which will help solve the global problems of mankind, including the most significant among them - providing food to an ever-growing number of people on our planet. If at the beginning of the twentieth century, the population of the Earth was 1.5 billion people, today it has exceeded 7.6 billion.
This situation requires a further increase in productivity in the agricultural sector, which, in the context of the application of traditional technologies, has led to the intensive use of fertilizers and pesticides that saturate the soil with unsafe chemicals. Due to climate change, vast areas set aside for agriculture suffer from drought. Genetically modified products cannot fully provide for the consumer market, and their effect on our body cannot be considered fully understood. All these factors confirm the need to search for new, more effective methods of growing crops, one of which is hydroponics.
The history of the emergence of hydroponics is associated with centuries of research by scientists, as a result of which a huge number of experiments were carried out that made it possible to determine the optimal balanced nutritional composition to ensure the vital activity of plants. As it turned out, the soil environment for crops is not necessary, and the most important elements in their nutrition are now known. Plants successfully grow and develop if their root system is in contact with an aqueous medium containing all the necessary substances. This fact became fundamental for the development of hydroponics as a new method of crop production.
I am certain that you will want to learn about this "idea of the future". The leaders in this area are countries such as the Netherlands, France, Great Britain, Israel, Canada, and Australia, where for several decades, experiments have been carried out to search and develop more advanced methods of soilless cultivation that are adapted to local conditions and meet certain requirements of the consumer market.
With respect to planting without soil, whether for business, for personal consumption, for leisure, or aesthetic purpose, this book holds in it all the details you need. Even if you have an idea of hydroponic systems, the totalistic nature of the content in this book will provide you with more than several good ideas that you can, and should be using.
Take a quick look at some of the details I mention and discuss:
How hydroponic gardening works
Why plant growth may stop
How to build your own hydroponic system
Clarification of understandings of different types of hydroponic gardens
Hydro pots for ornamental plants
Greenhouse and greenhouse lightning
The different types of hydroponic systems and their pros and cons
Choosing the right hydroponic system
Starting a hydroponics business
Choosing the right site for your garden
Nutrient concentration control
Hydroponic "life hacks"
Tips and tricks to growing healthy herbs, vegetables and fruits?
Maintenance of your hydroponic garden - myths and mistakes to avoid
...And many others
Would You Like To Know More?
Get this book now to start creating your own hydroponic garden