Morrison Hotel: Graphic Novel (Paperback)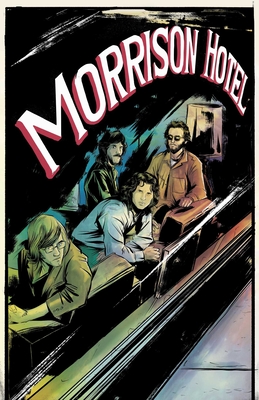 $19.99
Coming Soon - Available for Pre-Order Now
Description
---
The Morrison Hotel anthology written by Leah Moore, in collaboration with the surviving members of the legendary rock band and drawn by artists from around the comic book world, will weave the band's influence into some of the lore that led to their status as the architects of counterculture, influencing artists, poets, and outsiders for generations to come, set against the backdrop of the close of the free spirit of the 1960s into the tumultuous 1970s. A decade in which women, African Americans, Native Americans, gays, lesbians and other marginalized people continued their fight for equality, and many Americans joined the protest against the ongoing war in Vietnam.
About the Author
---
Leah Moore has been writing comics since 2003, when she co-wrote Wild Girl for Wildstorm Comics with her husband John Reppion. Since then she has co-written Albion, for DC, three original Sherlock Holmes mysteries, and feminist fairy-tale Damsels for Dynamite Comics. She has co-written adaptations of Bram Stokers Dracula, two volumes of M R James Ghost Stories of an Antiquary, Lewis Carroll's Alice in Wonderland, and HP Lovecraft's Shadow Over Innsmouth. For Dark Horse Comics, she and John wrote all-ages supernatural mystery Conspiracy of Ravens drawn by Sally Jane Thompson.

She has loved The Doors since she ransacked her parents vinyl, aged thirteen, and tried to turn her bedroom into the vampire-infested sea cave from The Lost Boys. While on a school field trip to Paris, even though it was raining heavily, she made her class divert to visit Jim Morrison's grave in Pere Lachaise cemetery. The Doors are, at least partly responsible for her misspent youth in rock clubs in the nineties, so she thanks them for that.

Kevin Mellon is Art Director on an, as yet, unannounced Marvel animated show for Floyd County Productions. Formerly storyboard director and artist for Floyd County on the Emmy award winning Archer (FX/FXX). Kevin has also storyboarded on Vampire Diaries, Legacies, Black Lightning, and Dynasty (all CW). Kevin has also made comics for Image, Marvel, and various other publishers.

Marguerite Sauvage is a French illustrator and scriptwriter. She became a freelance artist after graduating with a Master's degree in Information and Communication at the Institut Français de Presse at Paris University. She has since provided illustrations in press, publishing and advertising (Society of Illustrators 49th, American Illustration 26, American Illustration 28) . She works as well for entertainment in writing ( TV series Cultural Quest with Mister Otter, Vicky the Viking, ...), concept design (UbiSoft...), and in sequential art and cover art for comic books publishers (DC Comics, Marvel Comics , Valiant Comics ,...). She was nominated for Eisner Award, Joe Shuster Award, GLAAD Media Award and the Russ Manning Award. After several years of living in France, and then in Australia, Marguerite recently moved to live in the city of Montréal in canada.

Danijel Zezelj is a graphic novelist, animator, illustrator and graphic designer. He is author of twenty five graphic novels and six animation movies.
His comics, books and illustrations have appeared in magazines and anthologies in Croatia, Slovenia, England, Switzerland, France, Italy, Spain, Greece, Sweden, Brazil, Argentina, South Africa, China and the USA. His work has been published by DC Comics/Vertigo, Marvel Comics, Dark Horse, Heavy Metal, Image, Dargaud, Mosquito, Grifo Edizioni, Eris Edizioni, The New York Times Book Review, Harper's Magazine, San Francisco Guardian, Washington Chronicle, etc.
In 2001 in Zagreb, Croatia he has co-founded a publishing house and graphic workshop Petikat. He lives and works in Brooklyn and Zagreb.

Sebastián Píriz is an artist from Buenos Aires. He's been doing indie and web comics for the last 10 years. He's currently doing the art for Aftershock's DISASTER INC and his first creator owned story, BLACK BEACON with the writer Ryan K. Lindsay



and more!