Samurai 8: The Tale of Hachimaru, Vol. 1 (Paperback)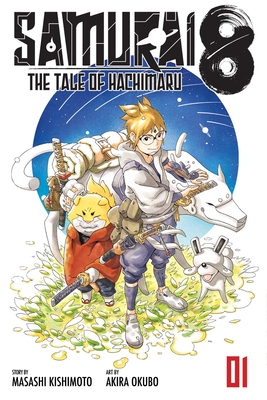 $9.99

Usually Ships in 1-5 Days
Other Books in Series
This is book number 1 in the Samurai 8 series.
Description
---
A futuristic tale of samurai adventure from the creator of Naruto!

Becoming a samurai seems like an impossible dream for Hachimaru, a boy who can't even survive without the help of his father. But when a samurai cat appears before him, his whole life changes! The legendary creator of Naruto and a rising manga star come together to bring you this science fiction samurai epic!

Only the most powerful warriors are able to transcend their human bodies and become something even greater—samurai. Samurai carry special souls within themselves and can travel through space as easily as walking the earth. Hachimaru has always dreamed of becoming a samurai, but he's as weak as they come. He's so sickly that he can't even eat solid foods. Being too weak to leave the house may have turned Hachimaru into an expert at video games, but with enough heart, could he become a true samurai?
About the Author
---
Author/artist Masashi Kishimoto was born in 1974 in rural Okayama Prefecture, Japan. Like many kids, he was first inspired to become a manga artist in elementary school when he read Dragon Ball. After spending time in art college, he won the Hop Step Award for new manga artists with his story Karakuri. After considering various genres for his next project, Kishimoto decided on a story steeped in traditional Japanese culture. His first version of Naruto, drawn in 1997, was a one-shot story about fox spirits; his final version, which debuted in Weekly Shonen Jump in 1999, quickly became the most popular ninja manga in the world. The series would also spawn multiple anime series, movies, novels, video games and more. Having concluded the series in late 2014, Masashi Kishimoto has kept himself busy this year with the side story Naruto: The Seventh Hokage and the Scarlet Spring and writing the story for the latest Naruto movie, Boruto: Naruto the Movie, both of which will focus on the title character's son, Boruto.