Cognitive Behavioral Therapy: 4 Books in 1: Social Anxiety Disorder, Critical Thinking, Rewire your Brain, The Self Help and Self Esteem Booster for (Paperback)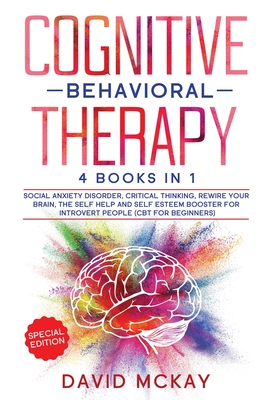 $26.95
Usually Ships in 1-5 Days
Description
---
You Are About To Learn How To Deal With Anxiety, Stress And Depression Effectively, Boost Your Self-Esteem And Rewire Your Brain For Greater Success
Owing to the stressful nature of today's life, many people are struggling with such problems like stress, anxiety, depression, low self-esteem, negative thinking, fear, worry and many related problems.
What's sad is that we've so much gotten used to using medication for everything that we've not discovered the full power of natural remedies like cognitive behavioral therapy in bringing about the much needed change. Cognitive behavioral therapy has been found to be just as effective as medication and is better because it has no side effects and doesn't create reliance.
What comes to mind at the mention cognitive behavioral therapy?
Most people think of some technical technique only used by therapists. Actually, quite a number of people shy away from this amazing form of therapy.
While cognitive behavioral therapy is a technical psychotherapy tool, you can actually learn to use it to deal with various issues that you may be going through. CBT is based on the assumption that most problems stem from our way of thinking and that you can intentionally shift your way of thinking. It entails identifying problematic behaviors and thoughts and replacing these with healthier responses.
CBT has been found to be very effective in treating anxiety, stress and depression (50-75% effective). It is also great at boosting your self-esteem as well as helping you change the way you think for greater success.
So, how then can you use cognitive behavioral therapy to deal with stress and anxiety?
How can you apply CBT to rewire your brain?
How can you use CBT to become a critical thinker?
How can you boost your self-confidence and self-esteem using CBT?
All these and more questions will be answered in this 4 in 1 bundle.
Here is what you will learn:
What Cognitive Behavioral Therapy is
A deeper understanding of anxiety and its symptoms
How to use Cognitive Behavioral Therapy for anxiety relief
What critical thinking is
How to change your way of thinking by applying CBT
How to become a critical thinker by using CBT
The possibility of rewiring your brain and changing how you think
How to rewire your brain by using CBT
What self-esteem is
Why having a high self-esteem is important in today's society
How to boost your self-esteem and self-confidence by using effective CBT techniques
And so much more
The book breaks down complex concepts into easy to understand and follow form that will help you to start taking action right away
If you would love how to change your mind to overcome anxiety and depression, become self-confident, and think critically...Scroll up to the top of this page and click
Buy Now
to get started