What God Says about Abortion: Understanding Abortion using Biblical Studies and Christian Scriptures on human life, Forgiveness, Consequences and Wa (Paperback)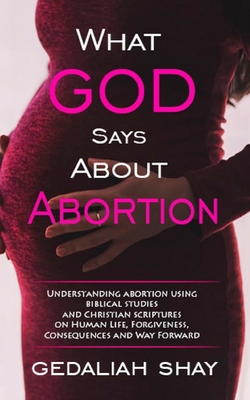 $12.45
Usually Ships in 1-5 Days
Description
---
Is there a reason valid enough to have an abortion when there is no underlying medical condition?
Is there punishment from God to anyone who commits or has committed abortion? Would people who have committed abortion and abortionists make heaven?
The concept is one that has been debated countless times in society and churches. There are those who believe in it; the pro-choice or pro-reproductive stance, those against it; the pro-life or anti-abortionists, and those indifferent. There has never really been a striking universal view of abortion.
However, in this book, we will be viewing the concept of 'abortion' from the eyes of God with reference to the bible and Christianity.
'What God says about abortion?' is not a book that is written to condemn anyone who has had an abortion or intends to, rather it seeks to expose the truth about the concept of "Abortion" and provide help for any who is having trouble over making a decision in its regard.
Each page is a revelation of light and truth amplified by scriptural verses.
You are certain to find your answers here.
Perfect as a book gift item for seekers of the truth, kids, teenagers, mothers, fathers, parents and family members.