Wall Street's Grand Deception: Why Your Financial Advisor Might be Hazardous to Your Wealth and What You Can Do About It (Paperback)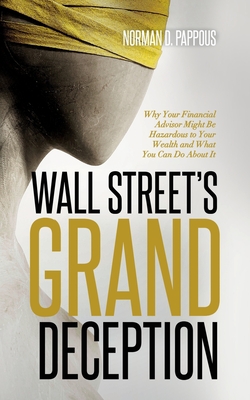 $19.99

Usually Ships in 1-5 Days
Description
---
Get an insider's account of Wall Street's sleight of hand and your financial future.
You dream of finding financial freedom in retirement-but you are unsure of how to invest funds to make that happen. Hiring a financial advisor to steer your money through the market's ups and downs seems like the smart choice.
However, the scary reality is that Wall Street firms work to ensure that most investors have little understanding of how their financial advisor's advice affects their financial future. This guide can help you stop being passive when it comes to your investment portfolio and spot the differences between a skilled financial advisor who is working for you or one just skilled in sales and collecting fees.
Financial industry veteran Norman Pappous wants to pull back the curtain on how wealth management firms actually work. An insider's account of Wall Street's billion-dollar marketing-machine scams, Wall Street's Grand Deception will arm you with the knowledge to spot high-quality portfolio advice and avoid falling for the fake narratives of Wall Street's marketing machine.
You'll discover:
How firms evaluate their financial advisors' performances, beginning with sales quotas.
Examples of how Wall Street marketing deceives rather than informs, like distorting the results of famous academic studies.
Why you shouldn't trust the portfolio performance reports generated by your financial advisor.
Surprising secrets about financial advisor media rankings and search services.
Why having your financial advisor act as a fiduciary does not actually eliminate conflicts of interest.
Until now, investors haven't been able to answer the question "Is my financial advisor's investment advice worth the fees?" Wall Street's Grand Deception
provides the knowledge and techniques to conclusively answer that question. Read it and get your finances back on track